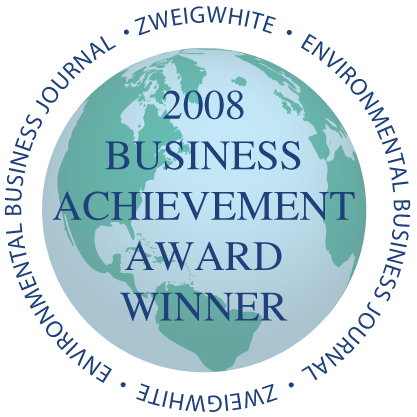 SAN FRANCISCO, Calif., February 20, 2008 — Locus Technologies (Locus), the world leader in on-demand environmental data and information management software, today announced that it has received a 2007 Business Achievement Award in Information Technology (IT) from the Environmental Business Journal (EBJ). This award recognizes Locus for achieving record sales to new Fortune 100 customers and for adding more than 30,000 new sites to its popular EIM database, representing a 600% increase over 2006.
Locus was also recognized for introducing the environmental industry's first "software as a service" (SaaS) environmental portal (ePortal) to its Fortune 100 customers. Locus' ePortal provides customers with a user-friendly interface to environmental information, business analytics and direct integration with Locus' EIM environmental database. ePortal is based on next-generation portal technology that enables seamless information integration across multiple sources and includes sophisticated data mashups for enhanced environmental data visualization.
"We are honored to be recognized by the Environmental Business Journal for our sales and technical achievement," said Neno Duplancic, President and CEO of Locus Technologies. "2007 was an outstanding year for Locus. We introduced an entirely new category of product for the environmental industry, and we significantly enhanced our Fortune 100 customer base who embraced our new offerings."
Locus plans to keep the momentum going in 2008 with continued innovation in its products. According to Duplancic, "It's no surprise that consumer social networking sites are driving business demand. After all, all the new Web 2.0 features people use everyday become so ingrained in our lives, we begin to demand the same features in business products." Social Computing is radically changing today's definition of collaboration and ECM (enterprise content management), prompting corporate environmental managers to reconsider how to make it easier for teams of environmental professionals to collaborate and securely manage content both inside and outside the organization.
After adopting the ePortal platform in 2007, Locus is perfectly positioned to add the features to ePortal that environmental customers are demanding, including enhanced collaboration and communication tools and more data mashups. Already in progress are enhanced linkages with Google Earth and GIS programs to extend ePortal's mapping capabilities and enhanced business analytics to report enterprise environmental sustainability parameters.