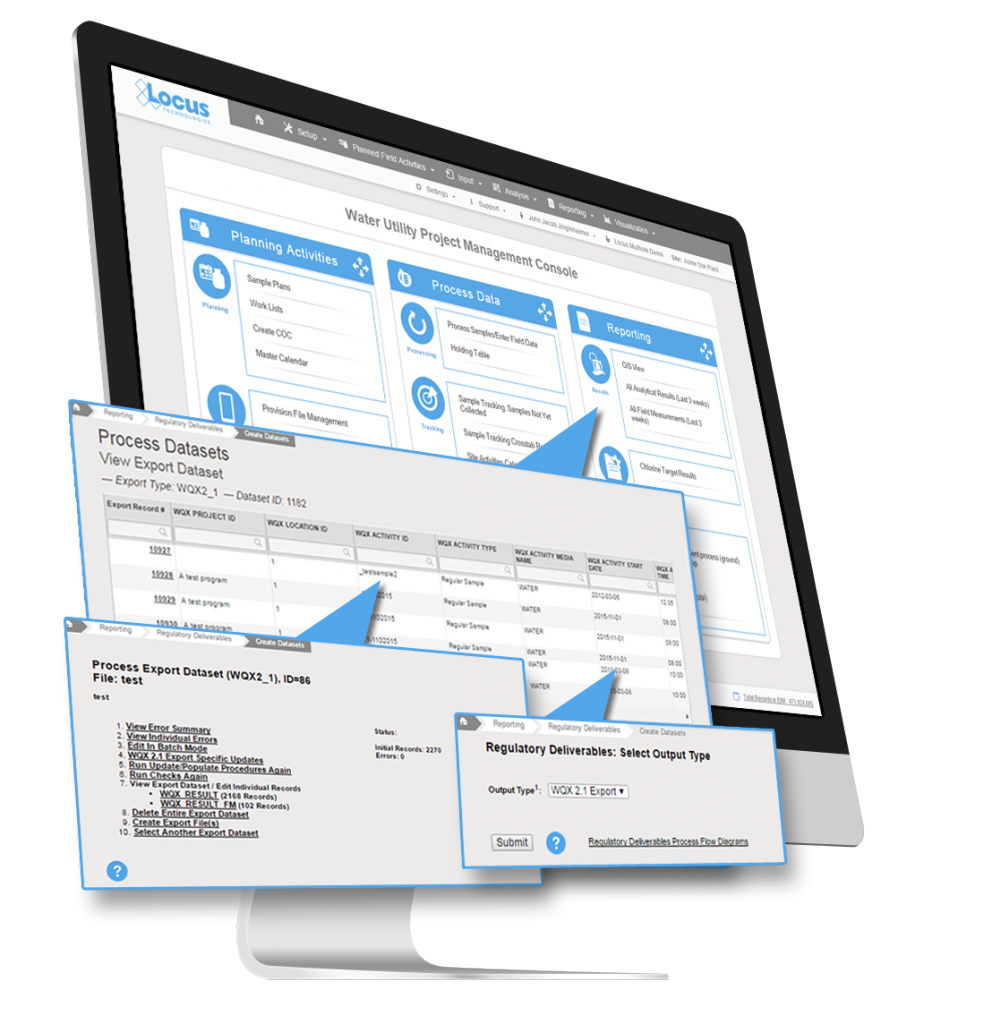 Submitting to EPA's Water Quality eXchange (WQX) from EIM just got easier
---
MOUNTAIN VIEW, Calif., 25 April 2017 — Locus Technologies (Locus), the leader in cloud-based environmental compliance and sustainability management software, is excited to announce the release of the WQX Export Tool for EIM. The tool, exclusively in Locus' EIM environmental information management software, provides users with simple intuitive interface to load data with the EPA's Water Quality eXchange (WQX) into the EPA Storage and Retrieval (STORET) data warehouse, following the standards and protocols of the National Environmental Information Exchange Network.
Locus customers that need to share water quality data with EPA via WQX and STORET, such as Tribes, States and their data partners, now have an easy way to translate EIM data to WQX-compatible formats for simplified data submission. This allows customers to take advantage of the many benefits of a sophisticated environmental data system and still easily provide data to EPA per their agreed upon requirements. They can use EIM to seamlessly integrate laboratory deliverables, manage time series field data, complex analytical data, spatial data, and also take advantage of Locus Mobile for field sampling.
"We are pleased to add this export capability to EIM to expand its utility to a wider range of customers", said Wes Hawthorne, President of Locus Technologies. "By taking a defined set of export requirements and simplifying the submission process, we have enabled a range of new customers to be able to use EIM for all their regulatory reporting needs."
ABOUT LOCUS TECHNOLOGIES
Locus Technologies is a leading environmental and sustainability software company that has been helping organizations achieve environmental and compliance business excellence since 1997. Public and private companies, such as Chevron, Honeywell, Del Monte, Monsanto, DuPont, San Jose Water Company and Stanford Linear Accelerator Center, rely on Locus to manage their water, air, and soil quality data for EHS compliance and sustainability tracking, as well as remediation efforts and environmental impacts. Locus provides mobile and cloud-based Platform-as-a-Service (PaaS) software solutions to address the EHS and sustainability industry's most pressing information management challenges.
For more information, email info@locustec.com.