Posted by Neno Duplan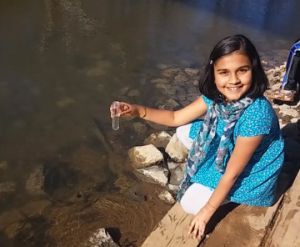 Girl's device uses nanotubes to test lead contamination in water instantly and cheaply
Gitanjali Rao, an 11-year-old budding scientist from Tennessee, has developed an innovative and radical device using nanotubes to test for lead contamination in water. Named 'Tethys', this innovative method to test lead in water could prove to be an effective solution in averting water crises like in Flint, Michigan. The device is linked to a smartphone app for instant visualization of results.
The young scientist was shocked when she learned about the water crisis in Flint and was inspired to find a solution to detect water contamination by speedy analysis of lead in water. She is currently one of the top ten finalists in the Discovery Education 3M Young Scientist Challenge, one of the most distinguished science competitions in the U.S.
How 'Tethys' works
When her device is dipped in water, the lead-sensitive material in the nanotube indicates if the water is contaminated with lead. The result is then sent to a Bluetooth-enabled smartphone that shows if the water has safe levels of lead or has concentrations of concern. When the device detects lead levels higher than 15 parts per million, the device warns that the water is unsafe.
"There are over 5,000 water systems in the U.S. alone with lead contamination issues," says Rao in her entry video. "Timely detection and preventative action can help mitigate the problem, but today it takes a long time because of chemical labs and expensive equipment. My solution addresses a core issue of speedy detection of lead contamination, allowing preventative action and even saving lives!"
Gitanjali is currently working with a mentor at 3M for possible commercialization.
Gitanjali is truly an inspiration to the rest of us as we look for better solutions to the environmental challenges we face today. Here at Locus, we believe that with great ideas like these and the resources and drive to pursue them, many of these challenges can be solved!