Move beyond silos with a new standard for your organization's facilities management and sustainability software.
Facilities Management & Sustainability Software—twin pillars of effective corporate sustainability reporting (CSR).
Corporate sustainability reporting (CSR) is a hot topic in environmental management.  Whether your organization is just getting started with sustainability initiatives, or if you've been in the game for awhile—Locus Platform can streamline and simplify CSR. Locus' sustainability software is built on a robust cloud platform and tailored specifically for GHG reporting and sustainability metrics tracking. Coupled with our Facility Management app, all the information you need to track and manage your facility is all in one place.
Create unlimited configurable dashboards and reports to track and share key performance indicators (KPIs), and track and manage your facilities and associated equipment. Then, use this information to meet regulatory and corporate reporting requirements, and optimize your business by reducing energy and operational costs.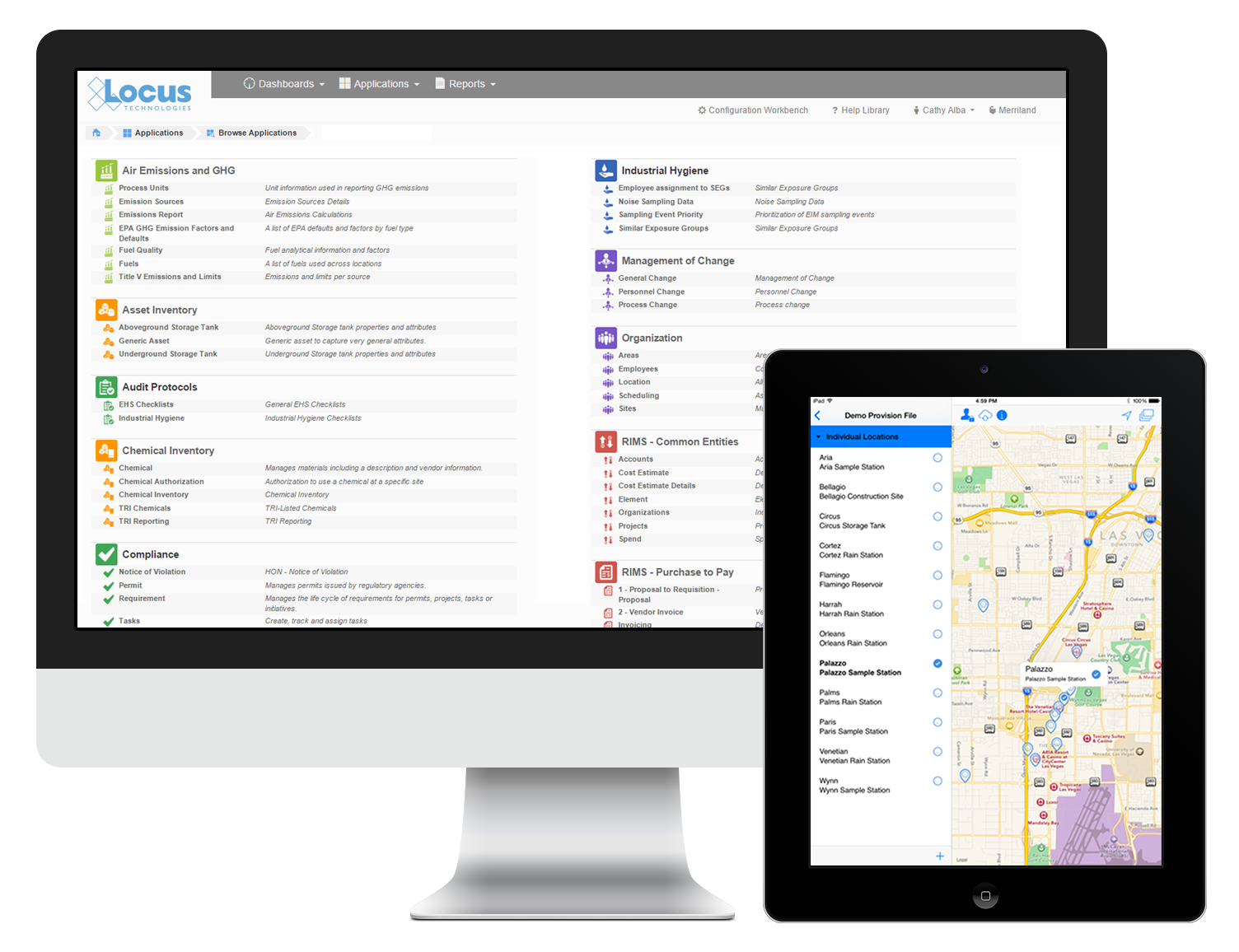 Standard and configurable sustainability management dashboards
Single or multiple facilities
Automatic reminders and notifications
Data validation and configurable review workflows
Annual corporate CSR reports
Integrated with compliance calendar, tasks, and facility management
GHG reporting
Track reports, photos, and other key documents using LocusDocs
Key performance indicator (KPI) metrics:

Electricity, fuel, and water consumption
Waste and wastewater (quantity & quality)
Air emissions
Production information
Our greenhouse gases (GHG) application makes it easy to manage emission inventory and permit compliance programs, and it's fully integrated with compliance tracking, asset tracking, and automation modules (including remote sensing).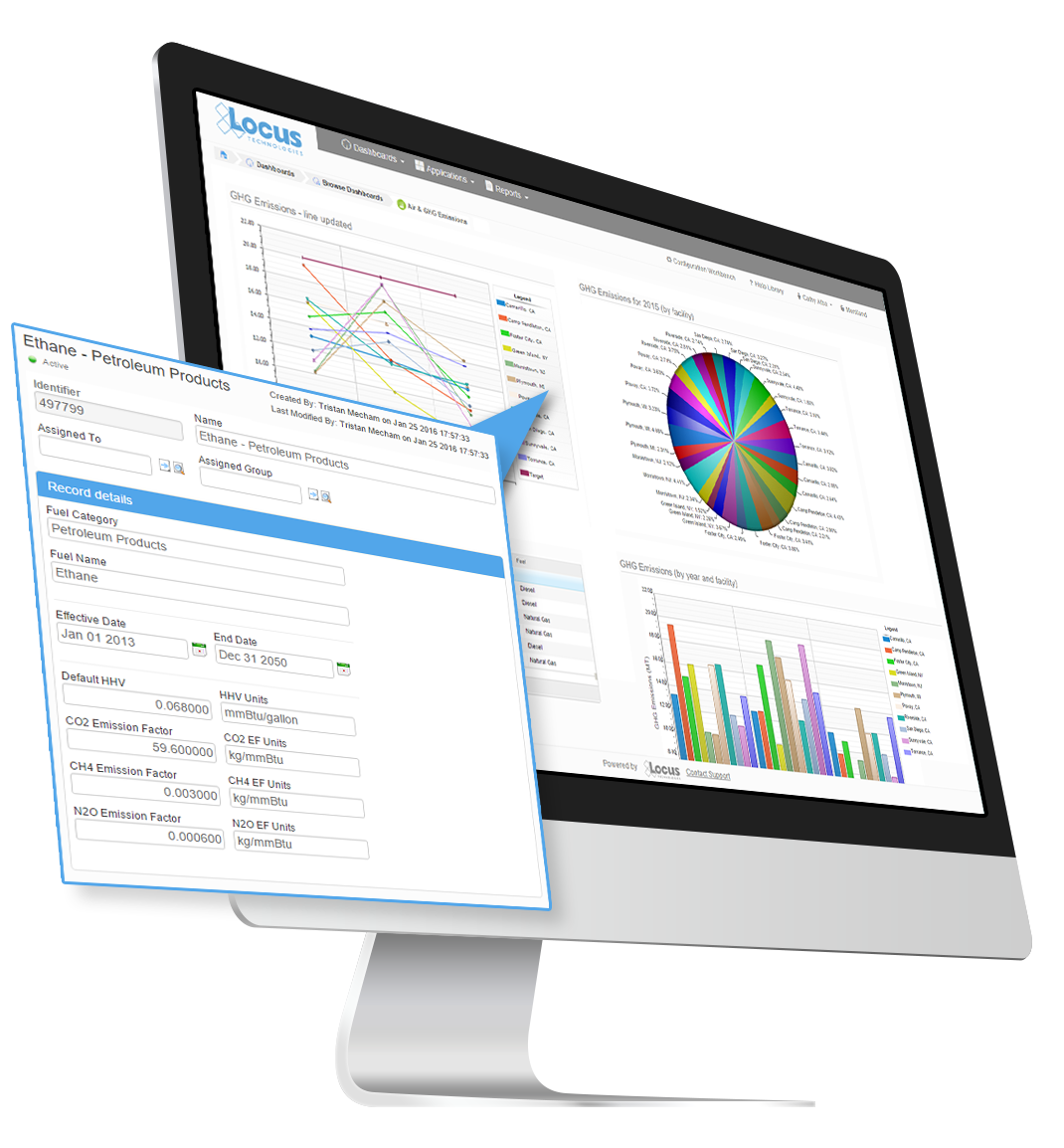 Whether you need to report for state or federal regulations, internal corporate social responsibility (CSR) and other sustainability reporting, the Carbon Disclosure Project (CDP), Global Reporting Initiative (GRI), or The Climate Registry (TCR)—our robust sustainability software solution and experienced staff will provide the tools and technical domain expertise to make your job easier.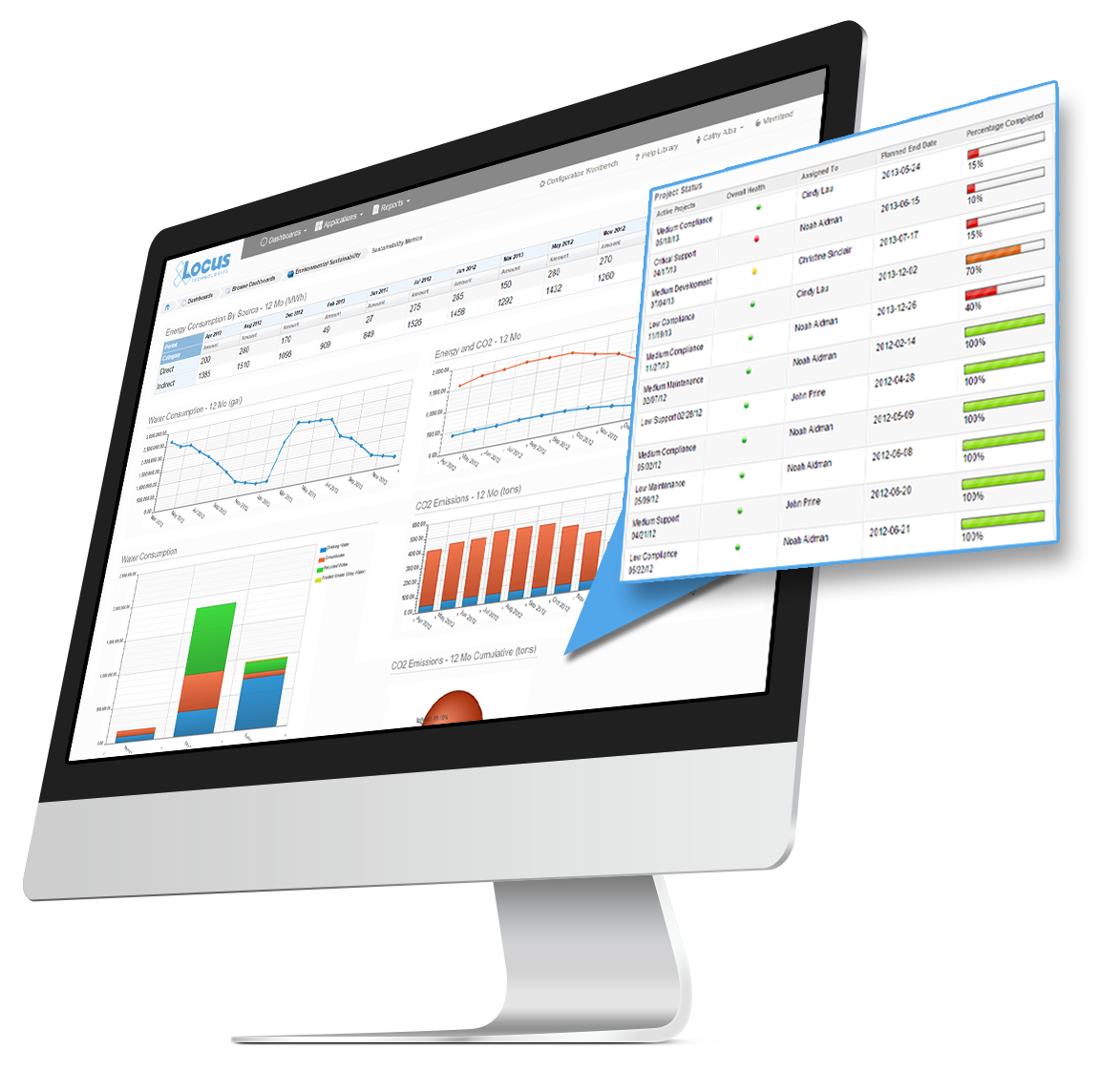 Locus Facilities and Real Estate Management (Locus Facilities) is a cloud software designed to manage a broad enterprise portfolio of real estate property, facilities, assets, and much more. Locus Facilities is a comprehensive facility management application that aims to increase the efficiency of customer operations and centralize important company information.
Streamline your workload by collecting, tracking, and managing information in a single mobile-enabled platform.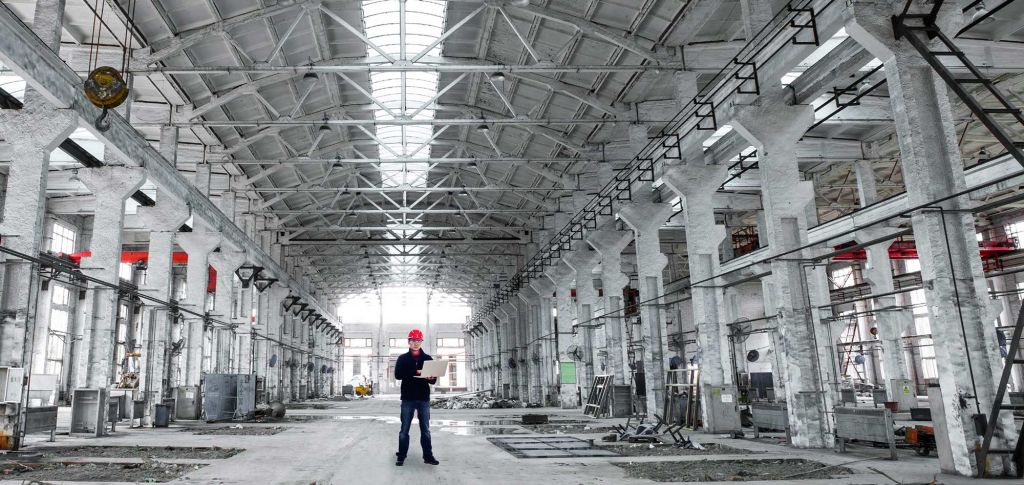 Locus Facilities is a highly configurable platform, making it easy to tailor the system to your unique needs. It provides you with granular control of policies and authorizations as well as allows you to grant limited access to external parties and subcontractors.
Why Choose Locus Facilities?
Increase productivity and reduce operational costs
Improve preventive maintenance
No-code application and no version numbers
Mobile-enabled
Configured to meet your needs with custom dashboards
Integrated documents with LocusDocs
Get better field data quality with Locus' mobile app, and streamline data collection in support of your sustainability management program. Mobile enable any data collection forms for sustainability or facility management data—streamlining your CSR workflow from field to office.
Don't see the specific sustainability app or module you're looking for?  Or, perhaps your company has highly specialized data types or reporting requirements?  Easily design your own data input forms and custom report formats using our fully-configurable workbench module within Locus Platform.  Or, tell us what you need, and our trained specialists will work with you (or your domain experts) to create and quickly deliver a customized solution.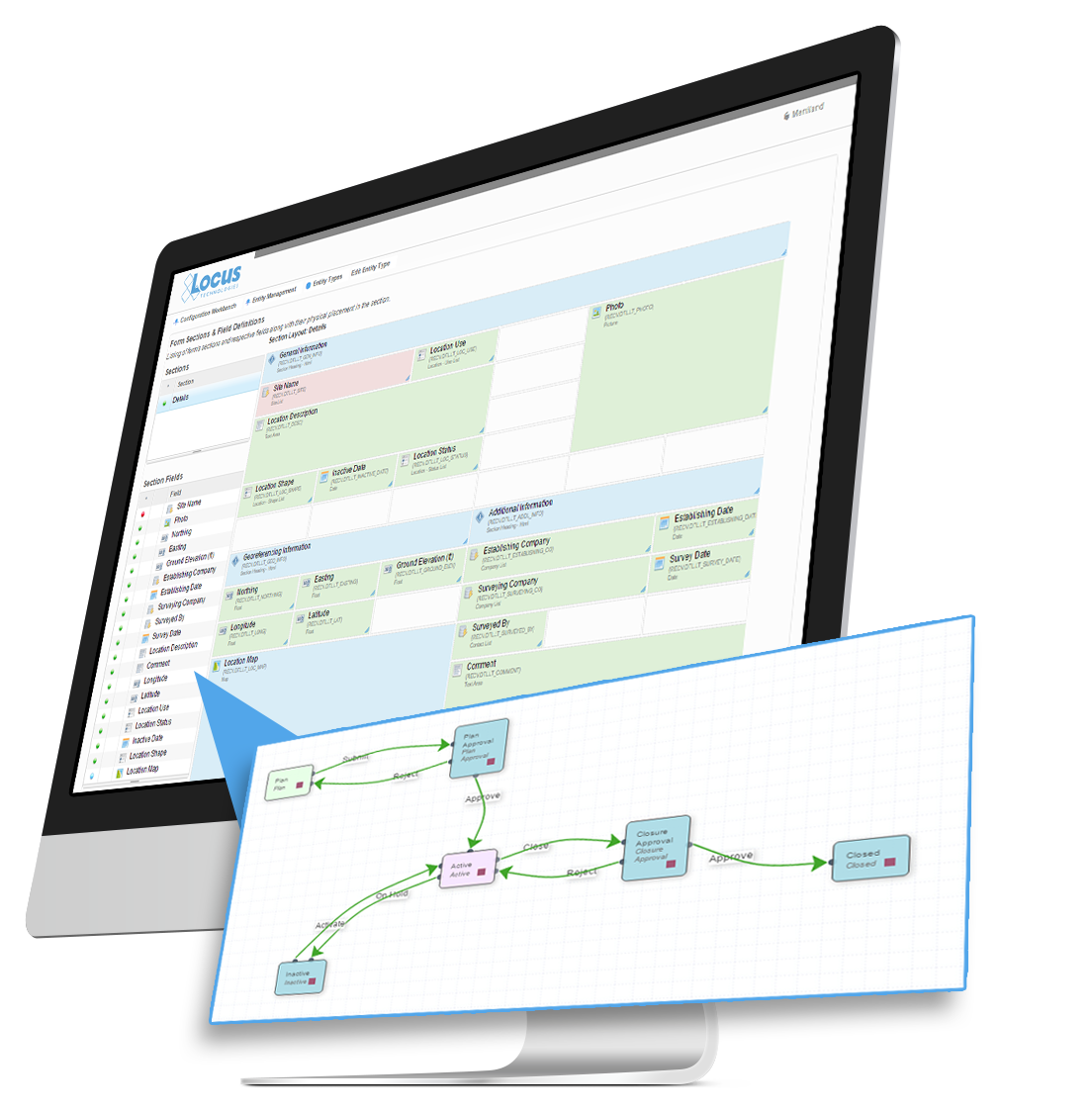 We achieved 'a sea change in terms of data quality, environmental risk reduction, and overall process cost reduction of over 50%' by implementing EIM.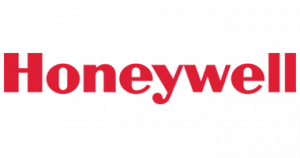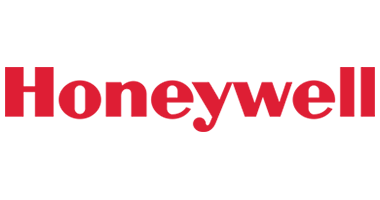 Remediation Manager
Honeywell, Honeywell
Our collaboration with Locus has been both productive and innovative, and your staff have been very enjoyable to work with over the past few years. We look forward to our work together in the future, and to seeing where technology and creativity take us.
Large customer
Department of Energy, Department of Energy
Not only does Locus' cloud-based system enable us to see our progress more quickly and easily because of the reporting customization and graphics, but Locus truly understands the science behind the metrics, and acts as another set of eyes and a trusted partner to Del Monte in validating our data.

By working with Locus, we will improve our ability to analyze and forecast our reliance on critical environmental resources, which will help Del Monte meet its sustainability goals. Management of our complex set of activities requires robust software architectures that are best delivered via the Cloud. We found all of these in Locus' platform.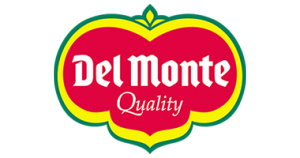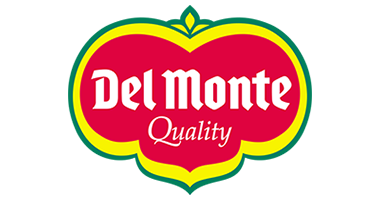 Robin Connell
Sustainability Programs Manager, Del Monte Foods
News & resources about Locus Platform sustainability software
August 28 @ 11:00 am

-

12:00 pm

PDT

September 18 @ 11:00 am

-

12:00 pm

PDT
Ready to talk?
Send us your contact information and a Locus representative will be in touch to discuss your organization's needs and provide an estimate, or set up a free demo of our enterprise sustainability software solutions.