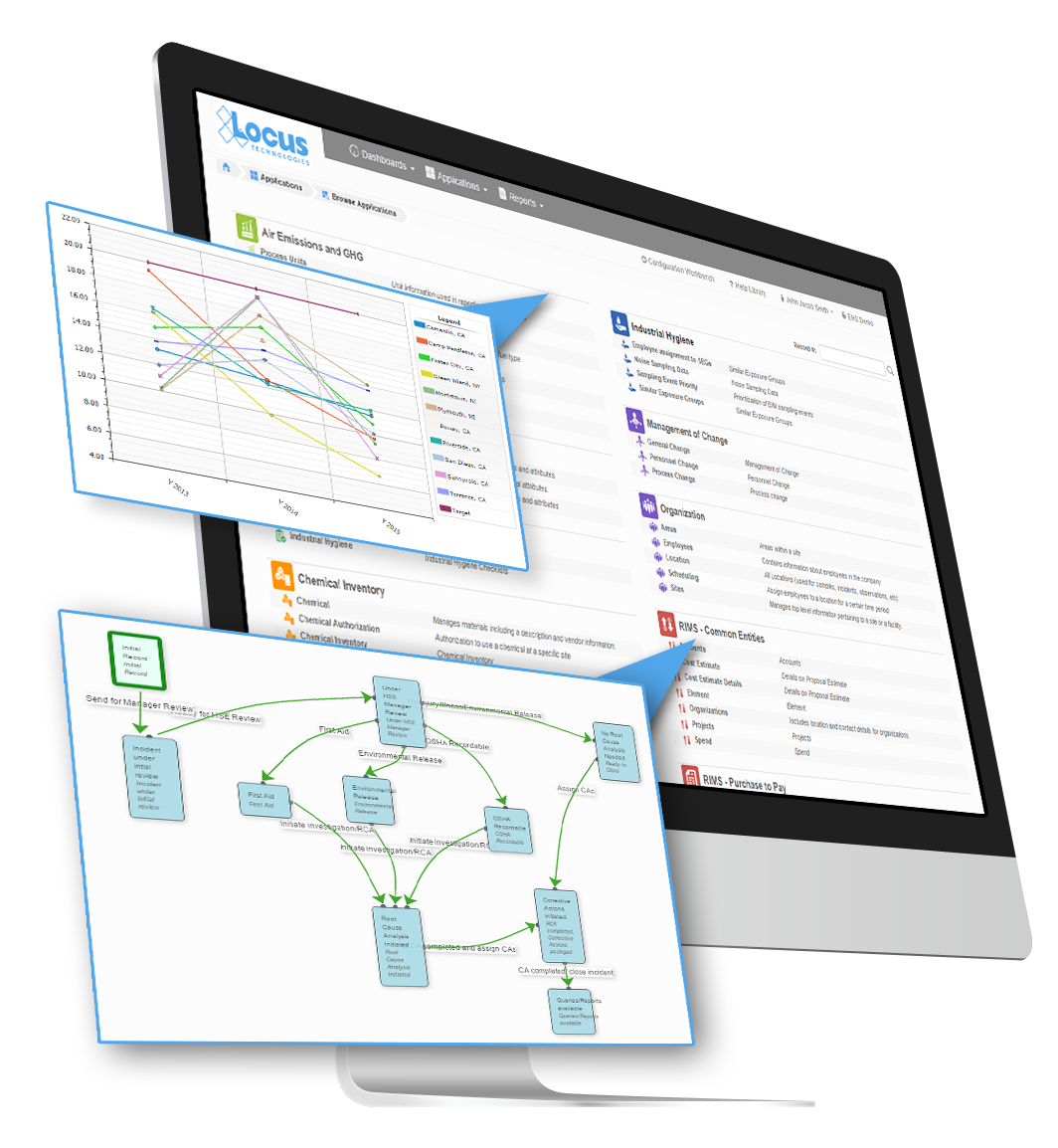 EHS software that grows with you.
As your business grows, so does the complexity and volume of your EHS compliance data. The web of spreadsheets and ad-hoc in-house databases that once seemed like a reasonable solution becomes impossible to manage— and trying to gather insights from this mess of data is a nightmare.
Locus Platform—our configurable cloud-based EHS software solution for managing EHS&S and other compliance-related information—can save your organization valuable time and resources.
Compliance tracking
Permits (Air/Water/Waste)
Waste management/Chemical inventory/TRI
Title V reporting
Health & Safety/Incident reporting
Mobile data collection/Dashboards/Reporting
Take your compliance up a notch. Everything is easily tracked, monitored, and managed.
Reduce your workload and gain more confidence in your air and emissions tracking with our comprehensive air quality management application, designed to help you reduce compliance risk and easily manage your emissions inventory and permit compliance programs (including GHG and Title V).
Because it's fully integrated with our compliance management, asset management, and automation/remote sensing systems, it's easy to leverage Locus Platform as a unified, best-in-class enterprise solution to streamline all your emissions tracking and reporting requirements.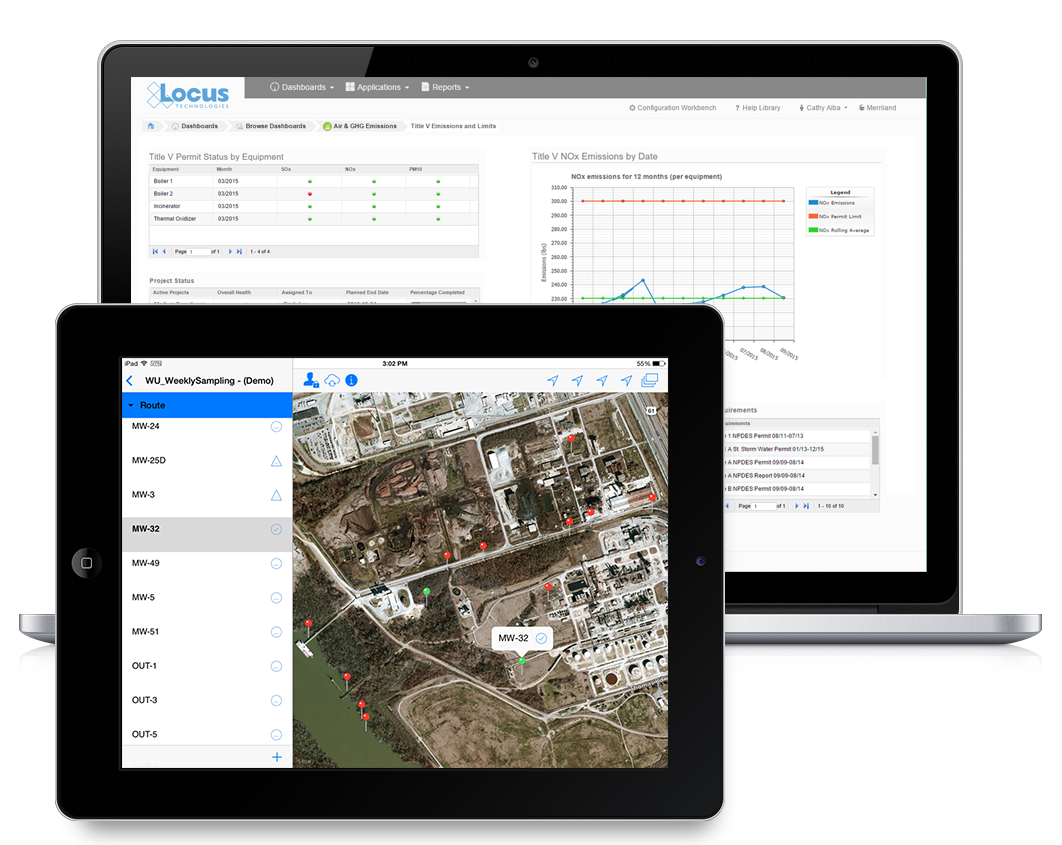 Effectively and easily upgrade your air emissions monitoring and reporting management programs when new regulatory programs are implemented, or when older emission tracking tools are eliminated, such as Fenceline and Community Monitoring or EPA's Tanks 4.09.
Automate your health & safety compliance activities from start to finish— so you can spend less time measuring and managing data, and more time optimizing your facility.  Working closely with our customers, we've developed a comprehensive incident reporting and management module in our EHS software for mitigating risks from routine safety incidents to workplace injuries.
Get your health & safety data into the output formats you need for compliance and incident reporting and stakeholder requests, with streamlined data entry forms and configurable analysis tools that are specifically designed to make your job easier.  And of course, our entire health & safety application is integrated with the rest of our environmental compliance software Locus Platform (including our mobile app), providing easy access to all your compliance information from a single EHS software application in the cloud.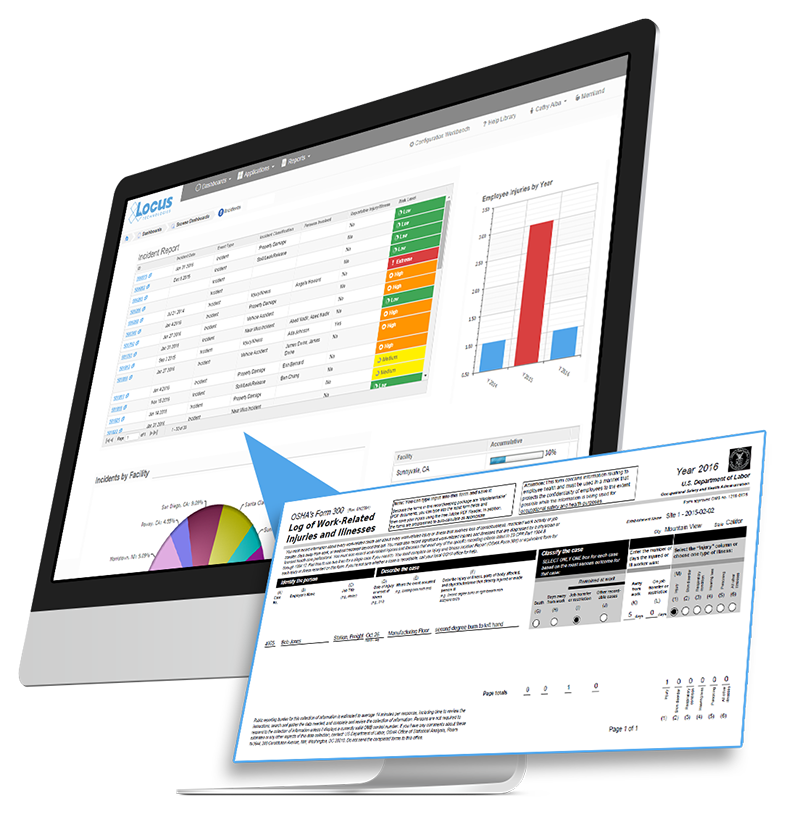 Almost every chemical that enters your plant eventually becomes a waste product that needs to be tracked, managed, disposed of, and reported on.  Our intelligently-designed waste management module in Locus Platform automatically assigns EPA and Department of Transportation regulatory information to waste chemicals and manages waste profiles, supporting all your EPA reporting requirements.
Take control of your facility's hazardous and non-hazardous waste with an integrated platform for waste management— featuring point-and-click preparation and printing of federal Uniform Hazardous Waste Manifests, non-hazardous waste manifests, and bills of lading.
Spills happen.  You can better prepare your organization to handle the onslaught of follow-up reporting and analysis by streamlining your compliance-related activities with our comprehensive spill management module in Locus Platform.
We specifically designed the spill management module to help organizations manage environmental compliance data and information for the EPA Spill Prevention, Control, and Countermeasure (SPCC) rule.  As part of the EPA's Oil Pollution Prevention regulations, the SPCC requires specific facilities to prepare, amend, and implement SPCC plans, along with a series of inspection and training requirements.
Track spills more efficiently with dynamic spill forms, send follow-up inspection actions automatically from inspection task completion checklists, and conduct root cause analysis based on inspection findings. You can also track new and modified equipment associated with regulated facilities with the included facility inspection checklist, to make sure your company or agency can address inspection findings in a timely manner.
Don't see the specific app or module you're looking for?  Or, perhaps your company has highly specialized data types or reporting requirements?  Easily design your own data input forms and custom report formats using our fully-configurable workbench within Locus Platform.  Or, tell us what you need, and our trained specialists will work with you (or your domain experts) to create and quickly deliver a customized solution.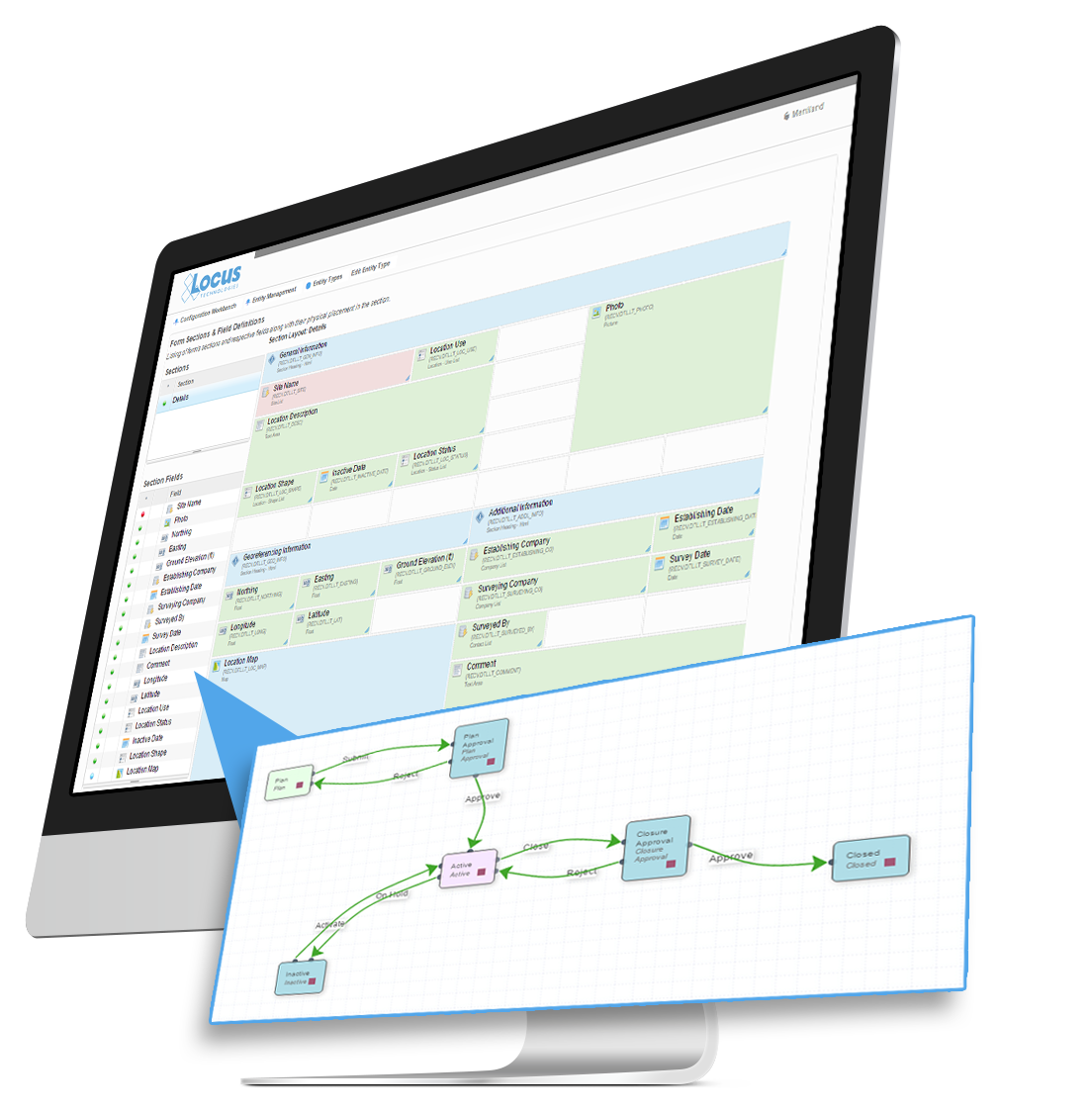 With Locus' configurable solution, we can set up applications, dashboards and reports to align with our current compliance application and tailor the functionality to our specific business needs.  We can continue to use our same data collection forms, but with more robust tracking tools to help our team keep on top of our EHS regulations and reporting requirements throughout PSE&G.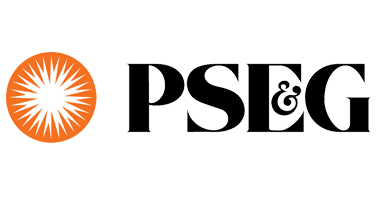 Robert Pollock
Sr. Dir Environ Projects & Services, PSE&G
We chose Locus software for the reliability and data security that enables our technology platform to operate with robust, data-driven communication for all Aquam customers around the world to utilize. With the integration of rapidly scalable Locus software, we are at the forefront of IoT and well-positioned to offer asset 'active management'—a core value to our customers and value proposition.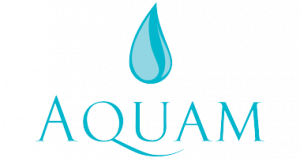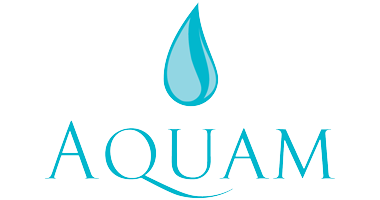 Danny Krywyj
President, Orbis Intelligent Systems
Managing water quality data is critical to our clients' projects. Water ARC is a new service provided by Carollo that integrates and enhances our capabilities to collect this data through field analytical, pilot testing, and laboratory-based treatability testing services. Key parts of this new service are our improved management of field analytical and pilot testing equipment, nationwide, with Locus Platform and streamlined collection and analysis of various data sources with Locus EIM. Incorporating these innovative tools in our project work helps us achieve a higher level of efficiency in managing quality data for our clients.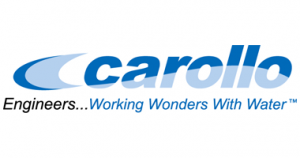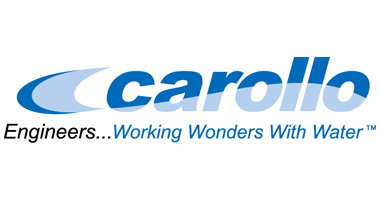 Justin Sutherland
Manager of Water ARC, Carollo
In selecting our data management system, we had a few criteria that we wanted to improve upon. We needed to be able to generate alerts based on data. We needed something that was mobile-enabled so that our field staff could use it. Our IT staff strongly preferred software hosted in the cloud so they wouldn't have to support or interact with it.

We were also interested in the option to expand beyond just environmental data management, to get away from this "one app for one task" approach. We looked at a lot of products—most of them satisfied some of these criteria, but not others. We had a good experience with Locus EIM for our drinking water data, so we discussed our needs with Locus and they recommended their new Locus Platform. It satisfied all our requirements.

Locus gave us in-person training, and as we developed our applications they were able to support us with very good response time. The user interfaces for individual users (as well as for me when I was developing custom applications) were very intuitive. Locus was always there to advise us on how to implement the more advanced features.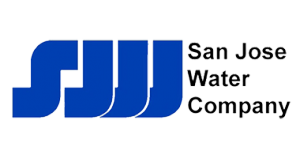 Casey Claborn
Water Quality Engineer, San Jose Water Company
The scalable, easy-to-use configuration in Locus Platform allows us to standardize our waste management and reporting process, and integrating with Locus Mobile simplifies data collection and container management at our waste-generating facilities.

Locus Platform helps our Waste Management resources to more effectively track, manage, and report information to regulatory agencies, facility managers, and corporate staff, and we can completely customize the solution using the built-in Configuration Workbench tool.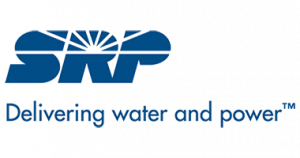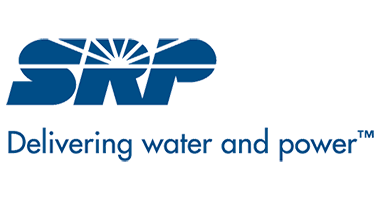 Noah Manwaring
Environmental Systems Development Lead, Salt River Project
I wanted to take a moment to acknowledge the outstanding support Kent Corp/GPC has received from the Locus team assigned to our environmental compliance log project. After nearly a year of meetings, planning, building, testing, training, and preparations, we are implementing the third and final phase of our Locus Platform at GPC on Mon, Feb 29.

Moving to the Locus Platform has been a significant culture change for GPC, and at times, this has been a challenging process. The Locus Project team has been extremely patient and tolerant throughout the entire project. This team navigated their way through a multitude of decisions, changes to decisions, and even more requested changes from GPC with patience that must have been challenging at times. If they were ever frustrated with our team, they did not display this emotion during any of our calls or review/training sessions.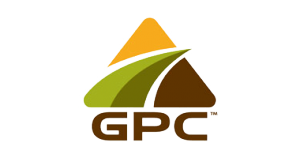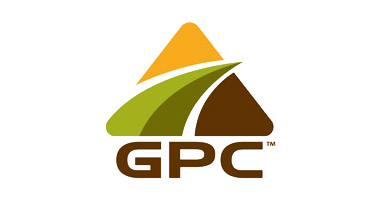 Linda Heckroth
Project Manager, Kent Corp/GPC
Thank you for your effort and excellent work. We appreciate the fast delivery schedule of the new developments. We are specially satisfied with the improvement of the user friendly portal.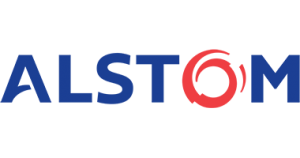 Pierre-Louis Marec
Group EHS Vice President, Alstom
Not only does Locus' cloud-based system enable us to see our progress more quickly and easily because of the reporting customization and graphics, but Locus truly understands the science behind the metrics, and acts as another set of eyes and a trusted partner to Del Monte in validating our data.

By working with Locus, we will improve our ability to analyze and forecast our reliance on critical environmental resources, which will help Del Monte meet its sustainability goals. Management of our complex set of activities requires robust software architectures that are best delivered via the Cloud. We found all of these in Locus' platform.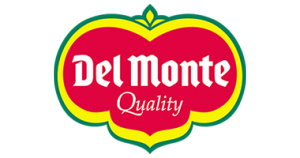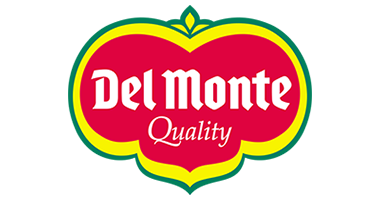 Robin Connell
Sustainability Programs Manager, Del Monte Foods
News & resources about Locus Platform EHS software for compliance management
June 24

-

June 27

July 24 @ 11:00 am

-

12:00 pm

PDT
Ready to talk?
Send us your contact information and a Locus representative will be in touch to discuss your organization's needs and provide an estimate, or set up a free demo of Locus Platform— our enterprise EHS software.