Quarterly Newsletter: Summer 2016
---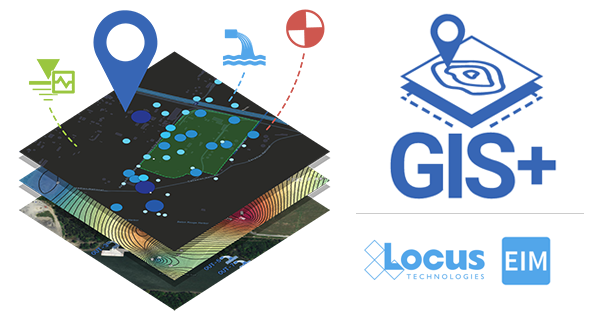 New GIS+ is a major step forward for EIM mapping
Locus is excited to announce our most significant update to Locus EIM GIS in over five years! We are introducing Locus GIS+ as a separate add-on product, commensurate with its huge leap in functionality. GIS+ maintains all the functionality of the current Locus EIM Google Maps GIS solution, but will add the powerful cartography, interoperability, and smart-mapping technology of Esri's ArcGIS platform. Key functionality includes:
Ability to use your own map layers as a starting point through integration with ArcGIS Online
Improved cartography with enhanced labeling and symbols
Save data queries as query layers— toggle between multiple query result layers on a single map
Granular control over color ramps & histograms for graduated symbols
Better comprehensive spatial data analysis with Esri's "smart mapping" technology
Advanced configuration and display options for layers, symbols, and grouping
Associate photos & videos with locations & samples, then access them from within the map
Many more enhancements and upgrades in the works— including 3D visualization of subsurface results, print templates, ability to map statistically significant trends, contouring post data layers, time-aware layers & animation, spider diagrams, attaching images and other documents to locations... and much more!
Locus GIS+ does not require Esri products to provide enhanced mapping functionality in EIM, but can be used in conjunction with Esri tools for customers already using those products.
We are excited to have this product available to our customers and will be offering a free 30-day test drive to all existing EIM customers in Fall 2016 in your existing EIM databases. For more information, please contact your Account Representative or info@locustec.com. Locus will also offer an overview webinar on November 2 to provide a first look at the powerful new GIS+ features.
---
EIM advisory panel— a voice for our EIM customers
Locus Technologies has always been committed to making sure our users have a good experience. In an effort to further customer success, Locus has launched an EIM/Mobile advisory panel to help guide Locus EIM and Locus Mobile development.
The advisory panel is mainly comprised of EIM "power users"— users with years of experience and expertise using Locus tools. The panel's job is to provide feedback for Locus and suggest ways we can improve or enhance EIM functionality. In addition, the panel will provide guidance around desired support services such as online trainings, documentation, development priorities, and help desk responses. Panel members will also take an active role in reviewing new functionality and suggesting enhancements via direct conversations with Locus EIM development team members.
If you are interested in joining, please contact your Locus Account Representative for more information. We are looking to create a trusted community between Locus and our users!
---
Upcoming conferences and events
NAEM EHS & Sustainability Management Forum 2016
October 26-28, 2016
Denver, Colorado
National Association for Environmental Management
NAEM's EHS Management Forum is the largest annual gathering for environment, health & safety (EHS) and sustainability decision makers. For 24 years, NAEM's annual conference has been the premiere event dedicated to sharing best practices for those developing and integrating strategic environmental health and safety programs within companies. Locus is a proud gold sponsor and looks forward to seeing our customers at booth #313.
Find out more about Locus at NAEM 2016



AWWA Water Quality Technology Conference & Exposition
November 13-17, 2016
Indianapolis, Indiana
American Water Works Association
Locus will be showcasing our EIM Water solution for public and private water companies. Come visit us at booth #419 and take a look at EIM and Locus Mobile for streamlining routine compliance sampling.
Find out more about Locus at AWWA 2016


---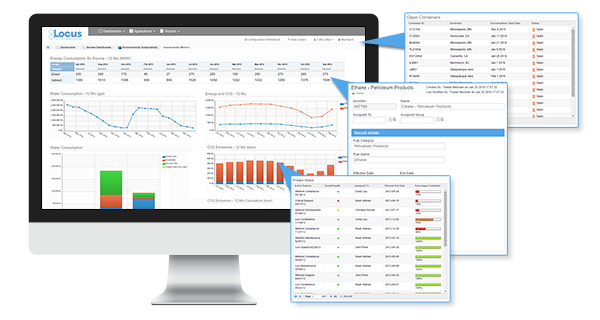 Exciting new features are being built in Locus Platform
Locus is constantly looking for ways to make the Locus Platform easier for users to configure and customize, even without any programming experience.
As part of this effort, Locus Platform now includes new tools for creating data sources, which are set up to pull the information that drives dashboards and reports (helping users understand the information being captured in Locus Platform). Initially, configurators needed to write queries in order to pull this information. But with the new data source quick setup tool, even inexperienced users will be able to quickly generate queries, using simple dropdown menus to select the information they need.
The Locus development team did not stop there in their effort to make insightful information even more easily accessible— it is also now possible to create "drill down" dashboards. Just by clicking on part of a chart, you can instantly see a table of the data driving the chart. This powerful new functionality means that you can go from the big picture to the minutiae behind the numbers.
Locus also took another step toward taking the world by storm (literally, the world!). Locus Platform now supports a number of languages, including French, Spanish, and Chinese. Users will be able to select their default language, making overall navigation and accessibility of important functionality much more straightforward.
A few of the things that users can look forward to in the next quarter:
Connecting to the ever-growing Internet of Things (IoT)
Exporting dashboards directly to a PDF
Bulk deleting records
More streamlined searches through all records on the platform
Click to create calendars— for applications like tasks, incidents, etc.
If you are interested in learning more about how Locus Platform works and how it can help your organization minimize risk, save time and money, and improve decision-making— please join us for our free eClass covering various aspects of compliance on September 21.
---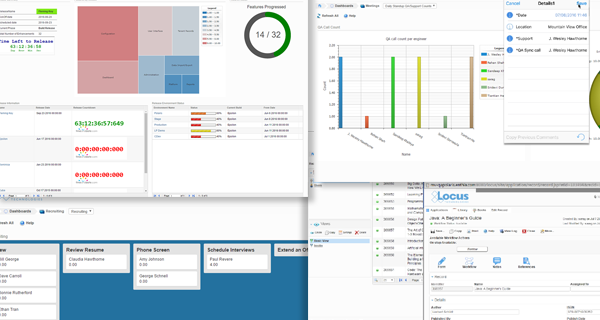 When our Locus Platform team is not sprinting, they are hacking!
Locus developers have participated in many different hackathons during their careers. But this summer, Locus hosted our first company hackathon— with participants building apps using the existing technology of our Locus Platform! Here is just a sampling of the great tools our talented developers created:
Internal tool to track the daily QA and support roles with mobile data entry, automated emails to notify of updates, and a scoring dashboard to track who is volunteering for these roles
HR application to track hiring and recruiting activities, including a Trello-style dashboard that lets users modify the status of a job applicant using a simple drag-and-drop
Internal application to track the usage of our developer reference library with descriptions on each book, a workflow that allows for checking books in and out and reserving items in advance
Internal application to track the status of our Locus Platform releases and deployments on each server, integrating with existing tools to track the enhancements in each release
Some of the enhancements developed as part of the hackathon will soon be incorporated into the Locus Platform in several of our current configurations. Great job, Locus Platform team!
---
GHG verification— Keeping our verification team insanely busy
Locus has been a leader in greenhouse gas (GHG) verifications in California since the inception of the state Cap & Trade program in 2009. This year, our verification team is working overtime on more than 70 GHG verifications in the following industries: energy, food & agriculture, manufacturing, oil & gas, transportation, aerospace, education, utilities, and chemical/pharmaceutical.
Being a premier GHG verifier gives Locus a valuable and unmatched edge in development of GHG software, as we are— without question— a leading expert on GHG emissions, tracking, and reporting. Although this verification season is over, contact Locus next year if you are either in need of verification services, or if you're looking to upgrade your current tracking capabilities.
---
Sign up for Locus customer eClass training/webinars today!
Register for Locus' free online training sessions to get an in-depth look at our existing modules, learn about new functionality, and share tips & tricks to make the most of our cloud software:
September 21, 2016
Locus Platform: Compliance Tools
11AM Pacific/2PM Eastern, 1 hour long
Find out how to improve and automate your compliance and task tracking activities with Locus Platform's compliance module.
Sign up here
October 19, 2016
EIM: Visualization Module— Logs and Plots
11AM Pacific/2PM Eastern, 1 hour long
Learn tips and tricks for using EIM's visualization modules, including CPT and boring logs, charts and plots of subsurface and analytical measurements, and contours.
Sign up here
November 2, 2016
EIM GIS+ (Special introductory webinar)
11AM Pacific/2PM Eastern, 1 hour long
Learn all about Locus' new GIS+ module and see the new visualization possibilities with this exciting new tool. Existing customers will have 30-days to do a test run with their own data so be sure to sign up early!
Sign up here
November 16, 2016
EIM: Analysis Module
11AM Pacific/2PM Eastern, 1 hour long
Sharpen your analytical skills with this exciting deep dive into EIM's analysis module.
Sign up here
---
Company & staff updates
J. Wesley Hawthorne
Promoted to President, Locus Technologies
In July, Locus promoted longtime Locus employee J. Wesley Hawthorne to the position of President of Locus Technologies. Wes has been an essential contributor to the success of Locus Technologies for the last 17 years. His strong technical background, coupled with his keen business sense, will provide Locus with the outstanding leadership needed to navigate the dynamic and changing EHS software space.
Read more about J. Wesley Hawthorne's promotion





Sarah Wright
Director of Customer Success
Sarah Wright has joined Locus as Director of Customer Success. Customer Success is a new role at Locus, and its main function is managing the technical and business relationships between Locus and its customers, with the intent of maximizing the value that customers derive from the Locus SaaS solutions. Before joining Locus, Ms. Wright worked as a database implementation specialist, directing global and regional environmental data management software implementations. She is also co-leader of the popular ICEDM conference for data management professionals.





Sasha Kerbel
Marketing Administrator
Sasha Kerbel joined Locus this July as a Marketing Administrator. The role of the Marketing Administrator is to increase public knowledge of Locus and to strengthen our brand, with a focus on social media outreach and public relations. Sasha has graduated this spring from Carnegie Mellon University with her Bachelors in Decision Science and Professional Writing. She is originally from Boston, MA.




---
299 Fairchild Dr, Mountain View, CA 94043
Locus Technologies © 1997-2016