Locus Technologies Quarterly Newsletter (September 2015)
---
Featured News - Water EIM


To better serve the water utilities market, Locus has configured and implemented Water EIM. Locus worked closely with our water customers to understand their daily sampling and analysis needs along with 24-hour lab turn arounds. Plus, we took note of their complex regulatory compliance needs with infrequent and variable sampling requirements for some locations coupled with weekly routine sampling at other locations.
To meet these needs, Water EIM features:
Simplified, yet flexible sample planning module, including auto-generated work lists and COCs. Updates and schedule changes are a breeze.
Action dashboard to have all daily management, tracking, and reporting tools on the homepage.
Updated mobile tools to support multiple field teams, sampling from defined sampling plans.
Expanded notifications to alert managers of any outliers for field and analytical data by sampling programs.
Streamlined UI-- only what you need, and nothing more.
Expanded tracking to help ensure compliance with the myriad of requirements for sample method, parameter and frequency/timing.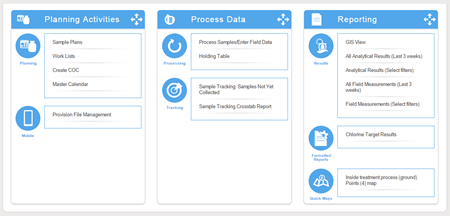 If you are a water utility looking for a software solution for your water quality management needs, contact sales@locustec.com to arrange a demo of our newest configuration.
---
Customers & Partners
In March, Locus attended the Waste Management Symposium, where Locus' Intellus website was presented by Los Alamos National Laboratory. The web site (also called EIM's public view) was very well received and lots of interest was generated for sites where public data disclosure is needed.
In June, Locus attended the Radiological Effluents and Environmental Workshop in San Diego. This workshop (formerly the RETS/REMP Workshop and the EPRI Groundwater Protection Workshop) is held annually and a great place to keep up with the environmental challenges of commercial nuclear industry. With its product, EIM Nuclear, Locus has a huge presence in the commercial nuclear industry and nothing is better than catching up with our customers and getting feedback on our products and services.
| | |
| --- | --- |
| | Kent/GPC Corporation expands its compliance solutions |
Kent/GPC Corporation expanded their compliance solutions with Locus in May 2015 to include entry and management of their Environmental Compliance Logs from two plants in our new Locus Platform solution. Implementation started late May with work including process flow documentation, business and functional requirements documentation, solution configuration, user acceptance testing, and application documentation.
Through this implementation of the Locus Platform solution, Kent aims to:
Securely host environmental compliance data controlled and owned by Kent.
Centralize data into a single, unified system.
Improve the efficiency of compliance reporting and tracking.
Standardize environmental compliance data entry and reporting processes and tools.
Training was completed in late September, with go-live to production scheduled for early October.
---
Locus Product News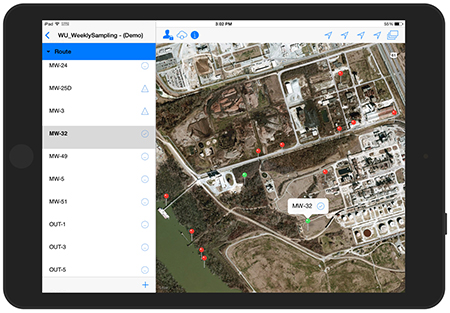 Locus has been busy providing some general and targeted updates to meet some specific needs of our customers, and making general enhancements to our product suite. Here are some of the key new features we have been working on, many of which are focused on water quality and compliance with NPDES and MSGP permits:

EIM

Support for the new EPA Multi-Sector General Permits (MSGP) with electronic delivery via NetDMR.
Precipitation intensity maps (Voronoi diagrams) to support event-driven NPDES permit monitoring/reporting.
Advanced surface water NPDES permit management module with configurable and flexible business rules, objects and object relationships.
Saved reports for compliance recordkeeping (snapshot in time).
Enhanced fields for geophysics data in EIM's subsurface module.
Bottle reports and field parameters vs. volume purged charts on Locus Mobile to provide even more tools for field teams during well sampling events.
Event-driven storm water sampling with Locus Mobile to mesh with sample planning and ad-hoc field data collection from multi-bottle sampling carousels for NPDES permit compliance.
Saved maps to allow EIM uses a quick way to track key information without the need to recreate the maps of interest. Maps are conveniently saved on the dashboard for quick access.
ePortal
Compliance module now allows tasks to be triggered by events, by other tasks, or by responses on a task completion form.
New Compliance reports for custom task completion forms and event-triggered tasks.
New features in Compliance module for tracking regulatory citations.
New Sustainability reporting tools for custom date periods.
Locus Platform
Breadcrumbs added for easier navigation throughout.
Associations can now be created between any entities, allowing subforms to be created for data entry.
New tools for managing date/time data, currency data, and checkboxes.
Updated Excel add-in for dynamic exporting, importing, and updating data.
---
Locus Company News
In a recent interview, Locus' President and CEO Neno Duplan discussed the importance of environmental and sustainability software. We believe that every company that wants to be credible with their environmental reporting must own their data and organize it in centralized database on the web. Our market category is not shaped by explosive growth of software companies like ones associated with social media or search engines. Our software manages and organizes a type of information on which the future of humankind depends. We organize it in a serious and very scalable way.
Read full Environmental and Sustainability Software interview
Locus named in the Top 200 Environmental Firms by Engineering News-Record (ENR) Magazine
As published in their annual survey in August 2015, Locus is the only software company that made the list. For more information, check out the full article in Engineering News-Record magazine.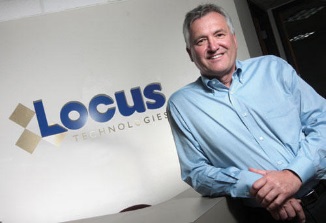 Locus' President interviewed by ENR for the feature article
Locus Technologies' CEO Neno Duplan sees technology, particularly the "Internet of Things", as a key tool to systemize what has been— for many private and public sector entities— an often ad-hoc approach to management of environmental compliance data.
"Many companies are flying blind when it comes to EHS compliance and sustainability reporting," he says. "There is an opportunity for us to use the same technology that collects data about our health and fitness via wearable devices to collect data for environmental monitoring."
Duplan also says that sensors which monitor temperature, carbon, or chemicals in the air or water "can give us unprecedented information about a location's, region's or the planet's overall health. If you live in downtown Beijing, knowing about the quality of the air you breathe and the water you drink may help more with making health choices than any amount of monitored exercise."
---
Locus welcomes Ripp Gamble as our new Director of Offshore Oil and Gas Services
As a manager of business development for oil and gas industry, Ripp will utilize his strong domain, management, and technical competencies to set objectives, develop strategies, and provide direction and leadership to develop offshore and onshore business relationship for Locus' products in the industry. Ripp has over 20 years of relevant experience. He spent last 13 years working for SEMPCheck Services, Lafayette, LA. His last position was General Manager - Systems Integrity, Compliance Manager. He played a crucial role in the design, development and management of industry safety and compliance software solutions for oil and gas offshore industry. Ripp holds a Bachelor of Science degree from the University of Louisiana Lafayette, Lafayette, LA.

Locus welcomes Snetu Karania as a Project Engineer
Snetu comes to us from Ramboll, formerly known as Environ, where she worked on projects related to air quality, permitting, GHGs, and meteorological data. Prior to that, she obtained two MS degrees from Stanford in Environmental Engineering (with different focuses on treatment processes and modeling. As a Project Engineer at Locus, Sentu will be helping to support our ePortal application and customers, and building new content for Locus Platform.

Locus welcomes Marc Bate as a Senior Developer
Marc comes to us from Critigen, where he worked on website development with the GIS and data management teams to customize and deploy Critigen's GIS systems for its hosted services. Prior to that, he worked eleven years for Earthsoft as their lead developer for EQuIS for ArcGIS, and seven years at TetraTech as lead developer for the EMAGIS environmental data application. Marc has a BS in mechanical engineering from the University of Miami and a MS in Civil and Environmental Engineering from UC-Berkeley. As a Senior Developer at Locus, Marc will be expanding the feature set in the EIM GIS and working to bring GIS to other Locus applications.

Locus welcomes Frances Ruiz as a Front-End Developer
Frances graduated from Carnegie Mellon and has experience in several languages including JavaScript, C, JSP, Python, HTML5 and MySQL. She has worked as a web developer, has helped design and program iOS games, and has three published novels to her name. As a Front-End Developer at Locus, Frances will work with the UX team to make interface and usability improvements for EIM and other applications.

Locus welcomes Lempi Miller as a Analytical Data Manager
Lempi graduated from Macalester College with a degree in Geography and Linguistics. Lempi enjoys trail running, low-budget world travel, is fluent in Japanese and conversant in a handful of other languages. She has worked as a data manager and systems analyst for numerous engineering firms, and has supported the data storage, reporting and compliance for the US Navy, The Army Corps of Engineers, numerous state and local agencies, and for large multi-national corporations. She will use her Analytic Data Management expertise to support the Operations Team in the realm of New Business Integration.

Locus congratulates Rebekah David
Promoted to Director of UI/UX
In her new function Rebekah will be responsible and have authority for all Locus products UI/UX and graphics branding for marketing. The work that Rebekah did on improving EIM and Locus Portal interfaces and Locustec is impressive and we look forward to her future contribution to continue improving our products interfaces, bringing more standardization and uniformity across products, and applying new trends to Locus' brand. Thanks Rebekah for great work!
Visit us at:






---

Locus Technologies maintains Microsoft Gold Application Development competency
As part of our commitment to meet customers' evolving needs in today's dynamic business environment, Locus strives to bring the best customer service to you.



---
Upcoming & Recent Events

NAEM EH&S Management Forum Conference
Charlotte, NC 14-16 October 2015
Locus is sponsoring and exhibiting at the NAEM EH&S Management Forum this fall. Locus will meet with existing customers to strengthen our relationships and reach out to companies who would benefit from our products and services, including our Locus Platform. Visit our booth and ask for a demo and meet the Locus folks behind software.
Read more about the NAEM conference this month
---
Sign up for Locus Customer eClass Training Today!
21 October 2015
Locus eClass Training
EIM: Subsurface Module
More information
11AM Pacific/2 PM Eastern, 1 hour long
16 December 2015
Locus eClass Training
Mobile Apps
More information
11AM Pacific/2 PM Eastern, 1 hour long
---
Say Goodbye to IE8
Following step with Microsoft's announced support retirement of its older browser Internet Explorer 8 (IE8), Locus will no longer support IE8 after January 1, 2016. For enhanced security, we encourage all our users to update to current supported browsers prior to Microsoft's announced support retirement.
---
Did you know...?
Linking mercury contamination in Lake Powell, or in the Colorado River Basin, to specific sources is difficult because it remains in the atmosphere for up to six months after it is initially emitted, said David Gay, coordinator of the National Atmospheric Deposition Program. That's long enough for mercury emitted in one place to waft up into the atmosphere and then get carried hundreds or thousands of miles, Gay said.
University of Nevada-Reno researcher Mae Gustin has studied the sources of mercury that ended up in California and Nevada and came to findings similar to Gay. Several of Gustin's research papers found that atmospheric mercury sources were lofted pollution from California's major cities or air that traveled from as far away as Asia, which is the biggest source of mercury globally.
Read more about mercury in Grand Canyon
---
Voluntary programs
The EPA has promoted several corporate wide voluntary programs to encourage the Oil and Gas industry to cut its air emissions (e.g., the new framework for the Natural Gas STAR Methane Challenge Program, which was proposed in July 2015).
The Agency says it intends to continue to encourage those programs to achieve emissions reductions 'through responsible, transparent and verifiable actions that would obviate the need to meet obligations associated with NSPS applicability.
---

Locus Technologies is an accredited GHG verification body under the California Air Resources Board (CARB). In fact, we are the second largest verifier in the state under the AB32 program. All the knowledge we gained through verification has been incorporated into our sustainability software. This year we performed over 60 GHG verifications. For customer's interested in 2016 verification services, please contact
sales@locustec.com

GRI brings together a worldwide network of companies and organizations committed to making the transition towards a sustainable global economy. Locus has been an Organizational Stakeholder for five years. We are long-standing supporters of GRI and have been part of the global OS network since 2010. It is very valuable for us to be part of this network and gives us benefits in various ways, such as providing profiling and networking opportunities, and access to technical content on the G4 Guidelines.

Security, Risk and Service Organization Control (SOC) Reports
Service Organization Control Reports® are internal control reports on the services provided by a service organization providing valuable information that users need to assess and address the risks associated with an outsourced service such as Locus Cloud.
Locus is accredited by the AICPA (American Institute of Certified Public Accountants) and holds SOC1 and SOC 2 reports.
SOC 1
These reports, prepared in accordance with Statement on Standards for Attestation Engagements (SSAE) No. 16, Reporting on Controls at a Service Organization, are specifically intended to meet the needs of the managements of user entities and the user entities' auditors, as they evaluate the effect of the controls at the service organization on the user entities' financial statement assertions. These reports are important to Locus customers providing them with independent assurance about business they are trusting their data and information. The reports are important for components of user entities' evaluation of their internal controls over financial reporting for purposes of comply with laws and regulations such as the Sarbanes-Oxley Act and the user entities' auditors as they plan and perform audits of the user entities' financial statements.
SOC 2
Report on Controls at a Service Organization Relevant to Security, Availability, Processing Integrity, Confidentiality or Privacy
These reports are intended to meet the needs of a broad range of users that need to understand internal control at a service organization as it relates to security, availability, processing integrity, confidentiality and privacy. These reports are performed using the AICPA Guide: Reporting on Controls at a Service Organizations Relevant to Security, Availability, Processing Integrity, Confidentiality, or Privacy and are intended for use by stakeholders (e.g., customers, regulators, business partners, suppliers, directors) of the service organization that have a thorough understanding of the service organization and its internal controls. These reports can form an important part of stakeholders.