Locus Technologies Quarterly Newsletter (May 2014)
---
Featured News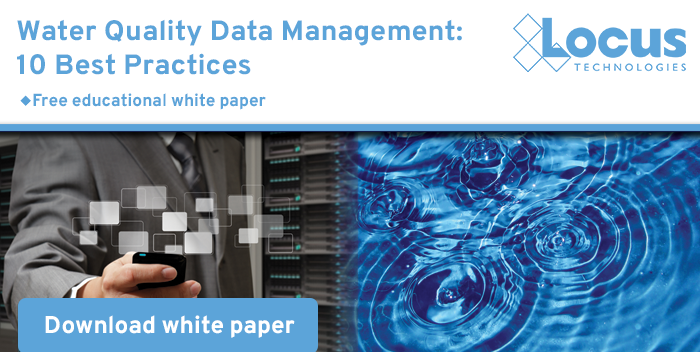 Download our free white paper, "Water Quality Data Management: 10 Best Practices".
| | |
| --- | --- |
| With a resource as precious as water, it is essential to exercise the best practices when ensuring its quality and conservation. To assist in this effort, Locus' domain experts have assembled 10 best practices for collecting, managing, and reporting water data that will help customers meet compliance requirements and more. | |
With the help of this white paper, you can learn how to:
Ensure your data is easily accessible and your management processes are efficient
Determine necessary reports and how to quickly and easily produce them
Visualize your data and get the most value out of it as possible
Optimize your use of the latest tools and technologies for data collection and analysis, visualization and reporting
---
Environmental News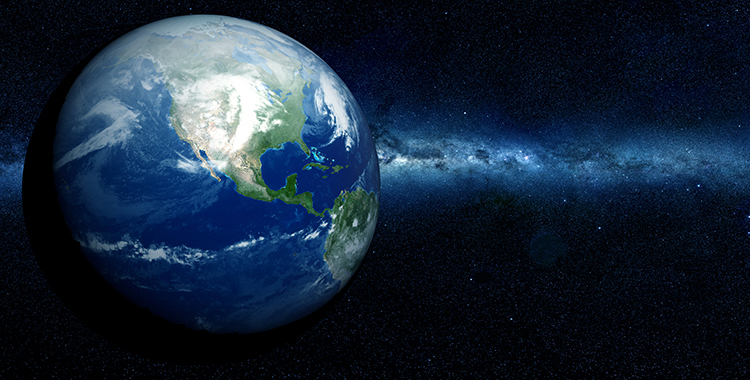 Latest National Climate Assessment Reinforces Severity of Climate Change
The recently produced study, known as the National Climate Assessment, has found that the effects of human-induced climate change are being felt across the United States. The involved scientists found that an average warming of less than two degrees Fahrenheit over most areas of the country in the last century has resulted in a decrease in water in dry regions, an increase in torrential rains in wet regions, and an escalation in more severe droughts and wildfires. Continue reading
More Environmental and Sustainability News:
---
Locus Product News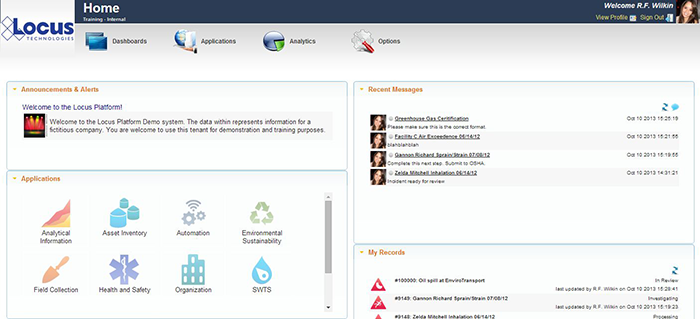 New Locus Platform Debuts with a Great Start and Customer Acceptance
Locus introduced the all new web platform in November of last year, and since then has been busy demonstrating it to existing and potential new customers. The reception of the new platform has been nothing but positive. Customers love the new dynamic architecture, and the ability to tailor it and even build their own applications on Locus' platform without any coding. Locus platform allows customers to:
Easily organize and manage enterprise EH&S compliance data and increase productivity.
Save time on task management and compliance tracking by streamlining data gathering, tracking tasks, and communication. Locus' EH&S and sustainability software platform reduces the administrative workload of your compliance and project managers so they can focus on managing projects— not chasing down status updates and consolidating spreadsheets.
Make timely and stronger compliance management decisions.
With Locus, all team members have anytime, anywhere access to the same up-to-date data in one centralized place. This means you're always equipped to make timely, informed EH&S management decisions— with less risk of error from outdated information and no need to wait for third parties to supply that information.
Easily modify features and functionality.
Customizing Locus requires no programming. So if a feature isn't working for you, you can change it, remove it, or even create a new one to replace it— without any coding. Any advanced spreadsheet or database user can quickly learn to modify Locus' software and add new features and functionality, or even an all new application. And using your custom application is as easy as using a spreadsheet.
Learn more about the Locus Platform
---
Coming Soon: Enhanced Locus Mobile Application
Locus is currently working toward a significant update to its suite of mobile applications. The improved Locus mobile app will offer the same great functionality that the eWell app currently does, only with more configurable options and broader scope. Not only will mobile users be able to collect and upload additional field data remotely, but they will also be provided with more real-time data validation, a variety of new functionality and options to determine what they would like to record, many additional field data checks, and better GIS and GPS interpretation.
These new features will help users accomplish their business specific requirements, and simplify their EH&S compliance and data management processes. Users will be able to collect many new types of field data, perform audits, and complete work and compliance activities on-the-go with their mobile devices.
---
Free Training Webinars
Locus is offering free, routine online training sessions for all of our applications. These webinars are meant to:
Demonstrate new functionality
Train new users
Share ideas and needs
Standardize processes and tools
Learn about specific session topics and how to sign up
---
Events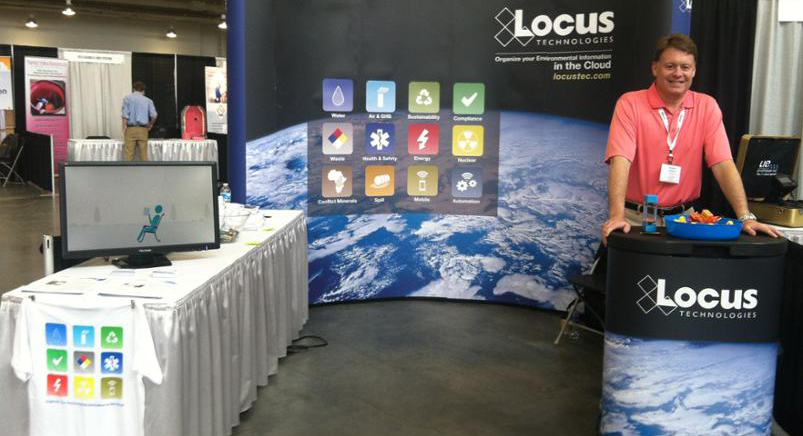 Stephen Cox, Locus Outside Business Representative

Putting a Focus on Water
Locus exhibited at the 2014 North Carolina AWWA-WEA annual conference from April 7-8 in Wilmington, NC
Locus exhibited at the 2014 California Water Environment Association (CWEA) annual conference from April 29-May 2 in Santa Clara, CA
Locus Outside Business Representative Stephen Cox (above) attended both events and represented Locus at our booth.
Q: What do you think the benefits are to attending events like this?
With any conference or tradeshow, it's nice to actually be in front of someone you're talking to, and to have all the latest technology and products under one roof. These events are educational, but more importantly they provide the perfect opportunity to meet and strengthen relationships with others who work in the industry.
Q: What were your favorite moments or parts of either event?
Locus has broken into the water utilities market recently, so it was great to spread the word and to hear from attendees that there is a genuine need for the solutions we offer. Having our software systems create a niche in individual markets, such as drinking and wastewater utilities, has been an exciting thing to be a part of.
But my favorite parts overall might have to be attending the on-site mixers. It's always great to be able to take your "business hat" off for a little while, and to just take advantage of getting to know people in a more relaxed environment.
Q: Do you have any advice for future attendees and/or exhibitors?
My general advice would be for attendees to jot down some questions and concerns that may be brought up during the technical sessions, and then to be sure to visit the exhibit hall. Take some time to browse and discuss the new ideas and technologies that are being presented, because a lot of the time you may find something that would address one of those questions or concerns you had written down. At the end of the day, it's always helpful to put a name with a face for future business discussions and needs.
---
Visit us at:






---
Locus News
Locus Welcomes Three New Directors
Locus has recently welcomed three director-level employees to its management team:
Chris Homer as Director of Sales, Government & Water Sectors
Robin Wood as Director of Mobile Applications
Raja Mariappan as Vice President of Software Architecture and Platform Engineering
---
Locus Expands Software Functionality to Address City-Specific Reporting Requirements
Locus' EIM software automates the generation of Self-Monitoring Report Forms (SMRFs) for the Arizona Department of Environmental Quality (ADEQ)
Read about it here
---
Locus Recognized as a Top SaaS Provider in Green Quadrant EH&S Software Report by Independent Analyst Firm Verdantix
Locus' software recognized for its configurable architecture, flexible implementation, and water and waste water management capabilities
Read about it here
---
Storytelling Series: Meet Mary (Sustainability Programs Manager)
A series of blog posts featuring fictitious characters facing all too familiar workplace challenges.
Meet Mary, Sustainability Programs Manager
---
Enterprise EHS Information Management
Read about it here
---
A Planet of Environmental Data
Today, every discussion about changes in the environment must begin with data.
Read about it here
---
Did you know...?

Locus' EIM is the nuclear industry market leader for both commercial and government sites where radionuclides need to be managed. Over 40 percent of the U.S. commercial nuclear reactor sites use EIM for radionuclides management and over six DOE research labs use EIM, including Los Alamos National Laboratory.


Locus Technologies is an accredited GHG verification body under the California Air Resources Board (CARB). In fact, we are the second largest verifier in the state under the AB32 program. All the knowledge we gained through verification has been incorporated into our sustainability software.


---