Locus Technologies Quarterly Newsletter (March 2015)
---
Featured News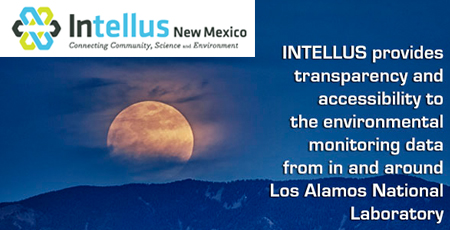 Motivated by creating an authentic and transparent relationship with the public, Los Alamos National Labs (LANL) publishes real-time environmental data to its Intellus web portal, powered by Locus EIM software. The portal is a vast database of environmental data collected from samples of air, soil, sediment, biota organisms and water from LANL, the New Mexico Environmental Department DOE Oversight Bureau, and various adjacent landowners. The Locus EIM software, the database behind Intellus, provides the tools to review data quality based on predetermined LANL criteria. The LANL-validated data passes directly to the Intellus portal for public access, typically within 24 hours. To date, the Intellus portal contains more than 14 million recent and historic records from 28,000 locations and 300,000 collected sample records. The Intellus engine provides the public tools such as GIS mapping, data and regulatory limit queries, custom charts, LANL-generated custom reports, and a public document library with more than 25,000 documents.
"Intellus allows near-real-time posting of validated information, which is a huge change from several years ago when access for the public to the same data could take months," said Nita Patel, the project manager at LANL. "We empowered Intellus users, and they have responded positively."
Families, organizations, businesses, students, and LANL's own scientists can create their own personal "myIntellus" account and save their analytical searches for future use. The new system reduces both operating expenditures and maintenance. Combined with Locus EIM, which sources all the Intellus data, LANL realized an estimated total cost savings since implementing EIM of about $15 million.
Explore the Intellus public web portal
---
Customers & Partners
| | |
| --- | --- |
| | Locus and 3E Company collaborate to provide a better experience for customers |
Locus and 3E Company, a leading provider of EH&S compliance and information management services, have joined forces and announced a strategic collaboration to leverage the strengths of each company. "3E has a diverse network of trusted companies with which we collaborate," said Uday Virkud, president and CEO, 3E Company. "Our alliances with these companies enable our joint customers to better meet their regulatory and safety obligations." Both companies' customers will benefit from seamless access to 3E's data through Locus' SaaS platforms.
DuPont divides into two companies
| | |
| --- | --- |
| | DuPont has split off its performance chemical segment into a new company called The Chemours Company. DuPont has been a long time customer of Locus, and with the change, each company will continue to use a separated version of the Locus EIM cloud-based software for their environmental management. |
The move for better quality water management
| | |
| --- | --- |
| | Field trials have ended for two, yet-to-be-announced, water utility companies who achieved positive results using the Locus EIM solution, Locus Platform and our new Locus Mobile app for their daily field sampling and analysis. Stay tuned for updates in our next newsletter. |
---
Locus Product News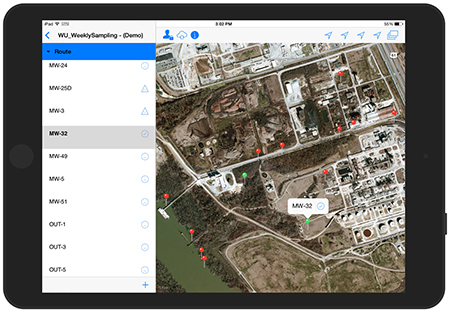 Locus Platform gains new features, adds mobile import/export capabilities
The Locus Platform update is now available. New features and expanded capabilities include iOS-based mobile field sampling, EIM integration, import and export capabilities, plus a new calculation engine. Early feedback from our customers gave positive kudos of the mobile integration, dashboards, and integration capabilities. New features include:
Field technicians can now gather field sample and other data from remote locations with the new Locus Mobile app for iPad and iPhone
Locus EIM customers can create role-based graphical dashboards and reports on Locus Platform, and get full visibility into data in a common dashboard
Users can easily export data to Excel for additional data analysis and reporting, as well as share data offline in a spreadsheet format
Large volumes of data can be imported with the new Data Import Utilities for integration with 3rd party applications
Easily create custom advanced calculations in dashboards and reports with a new Calculation Engine
---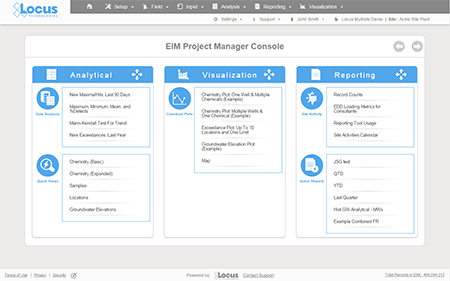 Locus EIM makeover gives customers more options, new controls
Locus EIM has earned its reputation as a reliable and trusted SaaS solution used by many companies at thousands of sites worldwide. The engineering team has been working diligently and the latest release of new features and capabilities is now available. In addition, EIM benefited from a UI/UX makeover. Since late last year, we began rolling out EIM's new, modern look and improved features and functionality. The facelift includes new icons and images, colors and templates. The final completion of EIM's new look is targeted for later this year. Here's a review of the key features in EIM:
The Enhanced Formatted Reporting feature allows customers to set cell content and formats using a powerful logic-based rule console. In addition, customers can save 'one-click' quick reports that can be readily accessed from the EIM Project Manager console. Plus, EIM supports very specific customer formats such as RadNeShap and ERPMIS reports.
The Chain of Custody (COC) Wizard lets customers create new COC forms by using a more intuitive interface similar to the physical layout of a COC. It also supports ad-hoc COCs created outside of sample planning.
New multi-chart plots let customers arrange multiple charts on one printable page. Customers can save and reuse their multi-chart formats.
The new output grids now support saving user grid settings and storing them for later use. Options that can be saved include output column display and ordering, column sorting, and grid filtering.
The new EIM for Water Utilities includes streamlined sample planning and field data collection along with expanded support for parameters such as eColi.
The new EIM GIS application has a cleaner look and feel and offers data filtering, improved tabular data views, and better map layout and printing functionality.
---
Locus Company News
Locus welcomes EH&S veteran Paul Wrench as our new vice president of sales
Paul's sales and environmental and sustainability experience will help build and drive our sales team. His career includes executive roles at Enviance and IHS. Paul works out of the Austin sales office.





Q&A with Locus Technologies CEO published in Environmental Business Journal
Locus Technologies CEO, Neno Duplan, shares his views and opinions in a 10 question and answer interview, entitled "Locus Technologies' Duplan Advised on Navigation of Rapidly Changing World of EHS/Sustainability Information Management," which appeared in the December 2014 issue of the Environmental Business Journal newsletter.
Read the entire article...





Locus Technologies receives 2014 Business Achievement award
Locus Technologies received the Information Technology award for achieving significant strategic strides environmental business in 2014 by Environmental Business Journal (EBJ), a business research publication which provides high value strategic business intelligence to the environmental industry. This was the ninth time Locus has received the award since EBJ established the honor in 2001.




---
Visit us at:






---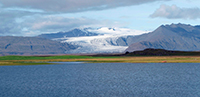 Chevron selects Locus EIM as its system of record
After a year-long competitive bidding process that included rigorous proof of concept testing, vendor capability analysis, and usability testing, Chevron selects the Locus EIM SaaS to manage its environmental, analytical lab and field data corporate-wide.
The renewed contract plus the distinction of Locus EIM being named its preferred solution enables Chevron to manage its standardized processes to improve environmental data quality, accessibility, and reporting. Locus has supported Chevron with its flagship EIM software since 2003.
Read the full press release
---
Upcoming & Recent Events

Waste Management Conference
Phoenix, AZ — 15-19 March 2015
Locus' customer Los Alamos National Labs (LANL) will be presenting presenting "Improving Public Communication through Environmental Data Transparency at Los Alamos National Laboratory".
---
Did you know...?
The oldest federal environmental law is the Rivers and Harbors Appropriation Act of 1899. The Act made it illegal to dam navigable waterways without a permit issued from Congress. Back at the turn of the 20th century, the electricity utility industry was booming and controlling dammed water was a good source for hydroelectric power generation. Violators of the Act were typically issued misdemeanors.

Law breakers included discharge of refuse into navigable waters (aka Refuse Act) as well as to excavate, fill or alter the condition of any port, harbor or channel without a permit. Many of the laws cited in the original Rivers and Harbors Act are regulated today under the Clean Water Act, however the original law is still valid.
---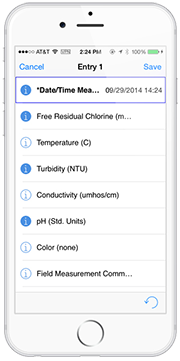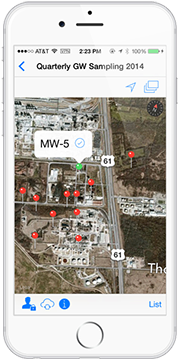 ---
Sign up for Locus Customer eClass Training Today!
18 March 2015
Locus eClass Training
EIM: eGIS
11AM Pacific/2 PM Eastern, 1 hour long
15 April 2015
Locus eClass Training
ePortal: Sustainability Module
11AM Pacific/2 PM Eastern, 1 hour long
20 May 2015
Locus eClass Training
EIM: Formatted Reports
11AM Pacific/2 PM Eastern, 1 hour long
---

Locus Technologies is an accredited GHG verification body under the California Air Resources Board (CARB). In fact, we are the second largest verifier in the state under the AB32 program. All the knowledge we gained through verification has been incorporated into our sustainability software.