EIM: eAdmin 2.0
August 29, 2018 @ 11:00 a.m.

-

12:00 p.m.

Pacific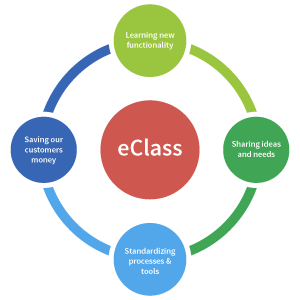 eAdmin has been totally updated and refreshed with a fresh user interface and new tools and features. eAdmin 2.0 will debut in September and this class will guide both Consultant and Owner Admins through the changes and new features.
 In this class, you will learn:
Creating a new user account, associating Roles and Permissions (RPs) with the account, and sending a welcome email

Creating a new EIM site and managing existing sites (Consultant Admins) and site groups (Owner Admins Admins)

Adding organizations and managing existing organizations (Owner Admins)

Running Audit Reports (Central)

Best practices for managing users, sites, and organizations
While we will discuss roles and permissions, attendees wishing to delve deeper in to EIM's new permissions module should attend the Roles and Permissions eClass at 9AM.
Maximum classroom size
100 Connections (if more sign up for the class, another class will be added for a different date/time slot)
Training coordination
Training is conducted by Locus employees and will cover topics deemed important through user feedback and help desk case frequency. Each class will be held online using GoToMeeting.
---
Sign-up
If you are interested in attending, please complete this form:
Please note, signups are limited; please sign up early to guarantee a space. After a session fills, we maintain a waiting list and will contact you if a space becomes available.  Depending on circumstances, these details may change.