Posted by Wes Hawthorne
Periodically, our CEO Blog will host blog contributions from Locus employees, who will be blogging about environmental data, compliance, sustainability, or other topics of interest to our customers and partners. We hope you will enjoy these different perspectives, and we invite you to join in the conversation, either in the comments field below, or on our social media channels:
---
Follow the new President of Locus, Wes Hawthorne, through his typical week to see the big picture of running a successful environmental cloud software company
Wes Hawthorne is the newly appointed President of Locus Technologies, having been promoted to this position after 17 years of working at Locus. Wes comes from a background of environmental engineering and geology, and he previously worked as VP of Operations, overseeing Locus' operations and product management teams.
In his new role as President, Wes is quickly learning about all the aspects of the company, and what roles come together to keep it operating smoothly and successfully.  As part of this, he has been getting a crash course in departments that were previously outside his scope of job responsibilities (such as sales and marketing).
Let's follow Wes through some highlights of his typical week as the new President of Locus to see what kind of things he works on day to day.
Monday
10 a.m. – Met with our marketing team to discuss some upcoming conferences.  It's looking like it will be a busy conference season, and each conference takes months of careful planning— from booth design, to presentations, to setting up demos of our mobile app for conference attendees— but our marketing team works hard to make sure we have everything mapped out well in advance of the events.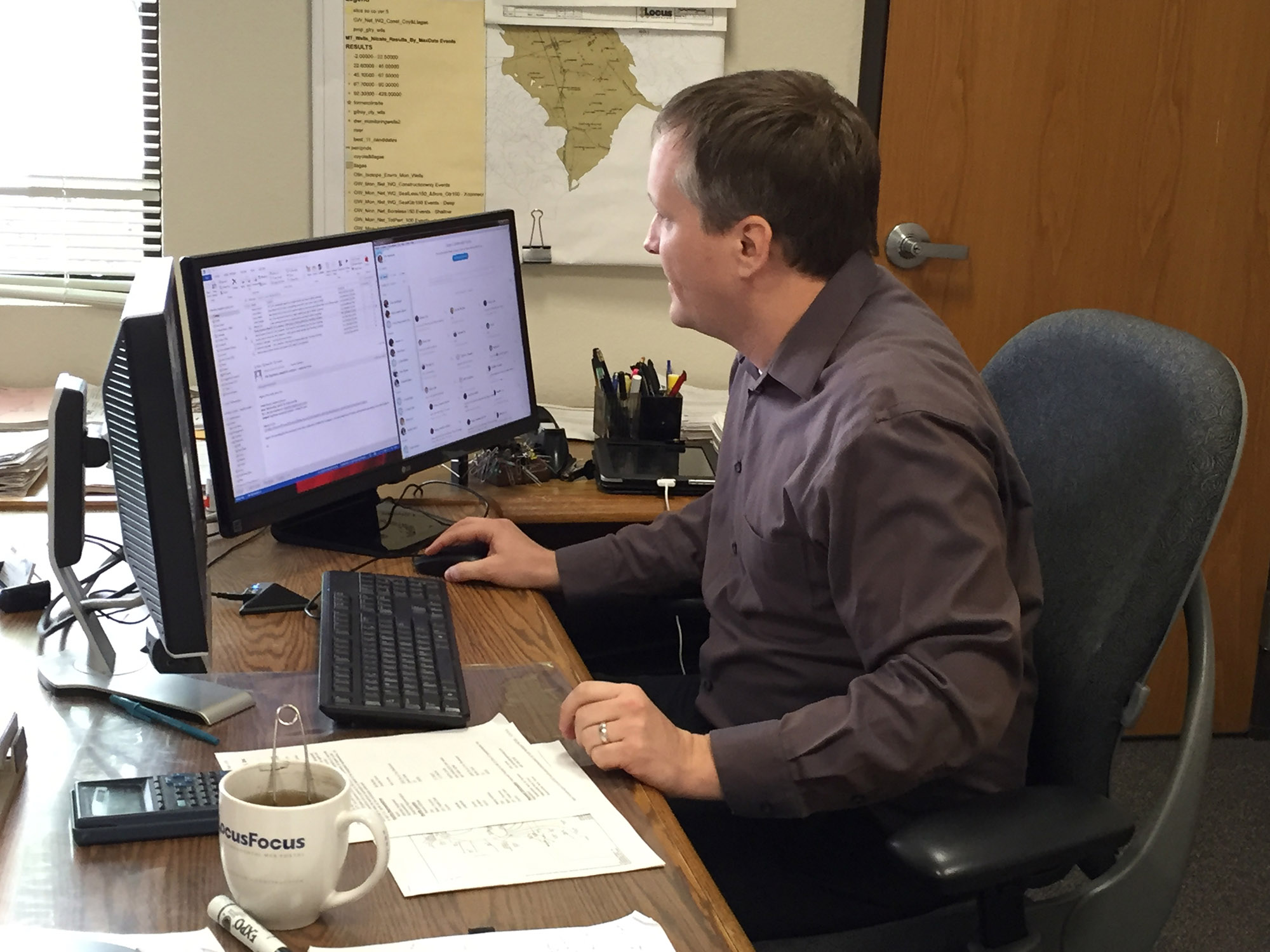 11 a.m. – Reviewed emissions and environmental data acquisition equipment for a cement manufacturing facility. One of the things I really love about working at Locus is the opportunity to work with so many industries, each with their own specific needs and requirements for managing their environmental data.
2 p.m. – Met with sales team to talk about some ongoing sales opportunities.  We also talked about the kinds of company values our sales team members are communicating to our clients. Everyone agreed that one of Locus' core strategies is having all the stakeholders involved initially, before the kickoff of the project. We have a strong cross-disciplinary team involved in making sure that every new customer has their data migrated and their personnel trained, and that they are totally satisfied with how the system is configured.
4:30 p.m. – Discussed new configurable reporting options with product management and development teams for Locus Platform. There is some really innovative work coming out of our Platform team, and no shortage of exciting ideas in the pipeline!
Tuesday
9 a.m. – Met with USEPA to discuss data management and reporting requirements for bioremediation projects. These projects have special data collection and analysis needs, which our EIM system handles in a very simple way.  I just took a tablet into the field and was able to redesign a monitoring program on the spot with the regulator. As a result, the project is taking another step towards closure, bypassing a process that used to take months.
11:30 a.m. – Prepared an evaluation of potential uncertainty associated with cap and trade emissions credits for a winery. With cap and trade programs, the metadata related to the reported emissions and product data are just as important as the reported totals themselves. Using a transparent data set and calculation engine, I can not only review reported data, but also quantify uncertainty and sensitivity of the inputs.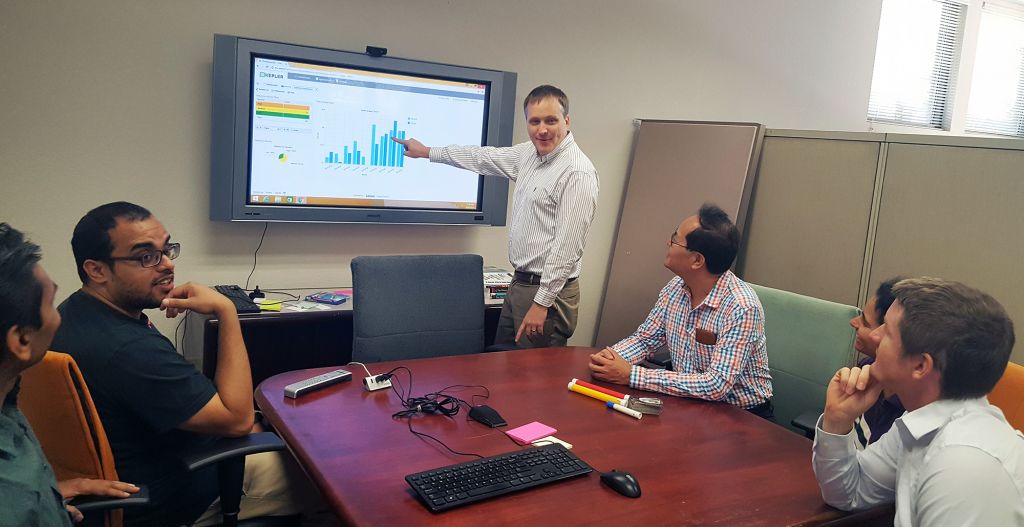 3 p.m. – Met with product development team for Locus Platform to preview upcoming features, including new tools for managing Internet of Things (IoT) data feeds.  The dev team showed some really interesting new features related to using IoT data, such as showing live data connection and viewing real-time dashboards. We also have some new tools that are developed to configure those features— not just to view them, but also for setting them up in Locus Platform, using its existing integration tools to pull that data in, drive actions for meeting compliance goals, and process it.
The product and development of Locus Platform is something that I've been involved with for several years now, but it's still so gratifying to see the product continually evolve, and to have a hand in saying how it should grow.
Wednesday
8:30 a.m. – Spoke with California Air Resources Board about GHG verification requirements for cogeneration plants. I frequently interact with many regulatory agencies. Because most of our products and services are driven by regulations, I use these conversations to keep our work aligned with the current and upcoming requirements.
12 p.m. – Joined welcome lunch at Doppio Zero in downtown Mountain View for new employee Venk Madabhushi.  We're always growing and finding new recruits, and we welcome new employees and support their growth.
The company culture at Locus is a very friendly, workable atmosphere; people just get along. We have people in a lot of different multi-disciplines— you have people from the environmental engineering background, the software developers, marketing and sales personnel, field technicians, and others. It's just a huge variety of people to learn from.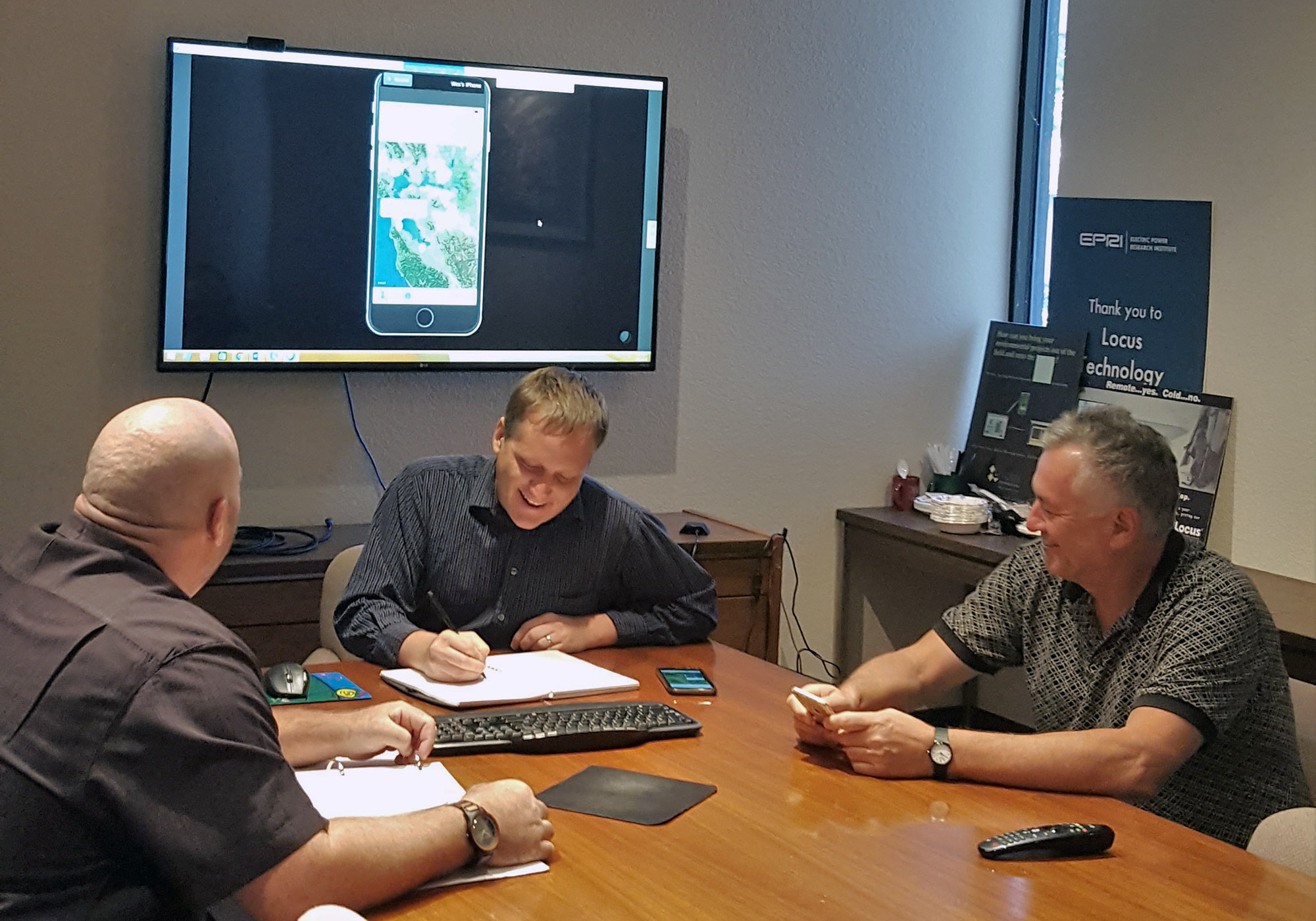 And culturally, I think Locus is great.  Well, I've been here for 17 years, so I obviously think it's a great place to work.  When our customers interact with an implementation team or our products team, they can tell that we're constantly communicating and working together, talking daily about their projects and how to keep moving forward. Keeping a positive atmosphere around how we work helps ensure that we're all aiming towards the same goal of delivering the best product possible.
3 p.m. – Met with account management and product management to start work on a new mobile tool for managing compliance information for drinking water entities. An exciting part of our work at Locus is identifying new needs for our current customers and then finding new ways to use our technologies to meet those needs.
4 p.m. – Reviewed cap and trade applicability for a supplier of petroleum products with operations in California. Fuel marketers have very different needs for their data management when it comes to cap and trade, because the reporting is organized around regulatory boundaries rather than facilities. We used integration with the transaction database to quickly assemble the data and avoid potential transcription errors.
Thursday
9 a.m. – Prepared a monitoring program for a theme park to address surface water runoff issues for permit compliance. This is a project where regulatory compliance tools are integrated with software for compiling and analyzing analytical data, in order to optimize a monitoring program that meets the specific sampling requirements of the permit.  It also meets the objective of identifying the source to target future mitigation efforts.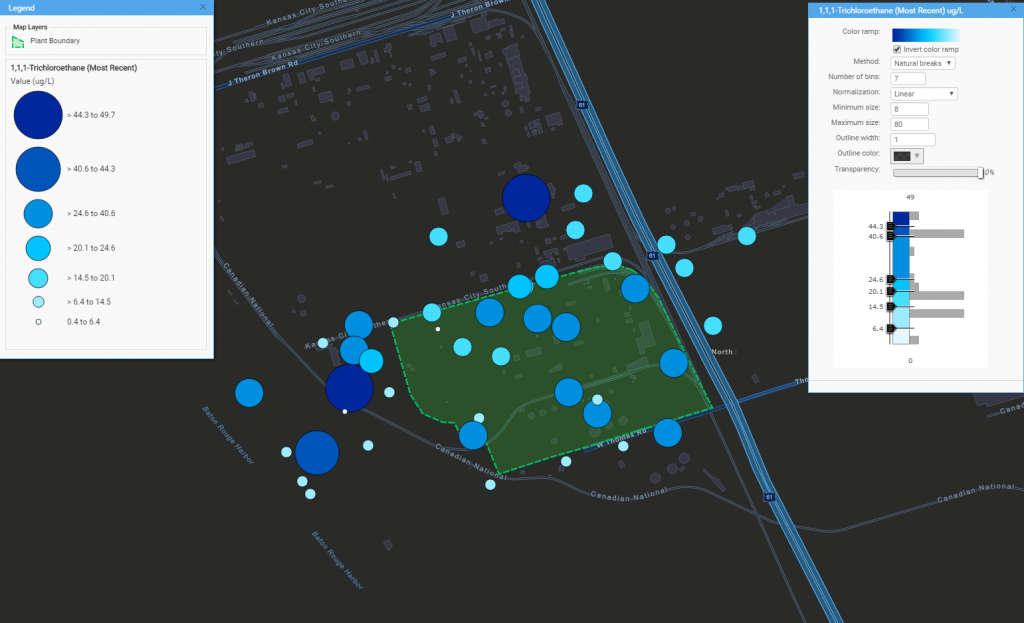 10 a.m. – Reviewed the latest build of our GIS+ functionality with development team.  As all of our customers know, Locus has provided cutting-edge mapping and visualization tools with our software for many years, and we continue to invest in those features.
But I'm really excited about GIS+, a new platform that we're rolling out, which has amazing new tools for data analysis using Esri technology.  We've seen our mapping and other visual analysis tools become more and more popular every year, thanks to the increasing volume of data being collected for environmental projects.
The new GIS+ is more powerful than anything we've offered before.  It's an all-in-one tool to give you quick visual analysis of contours or other geographic distribution of data, to give you a visual display of where things are located, make quick interpretations, and then generate report-ready deliverables.  I can't wait until our customers get a chance to try it out!
1 p.m. – Completed GHG verifications for an oil and gas producer, a distribution company for natural gas, and nine cogeneration facilities. Locus is one of the largest accredited verification bodies for GHG emissions in California. This gives us a unique perspective when it comes to this type of data, which is why we put a lot of emphasis on the quality and transparency of data in our software development.
4:30 p.m. – Reviewed applicability of data management requirements for air emissions from a power generation facility under 40 CFR Part 75. For this facility, we reviewed the system configuration to make sure that data substitution procedures were correctly applied. I've worked with many continuous emissions monitoring systems over the years.  For the most part, I've found that they collect a huge volume of data, but the tools for extracting useful findings out of that data are usually limited. Fortunately, we've learned some quick methods for reviewing this data that help to immediately identify potential issues.
Friday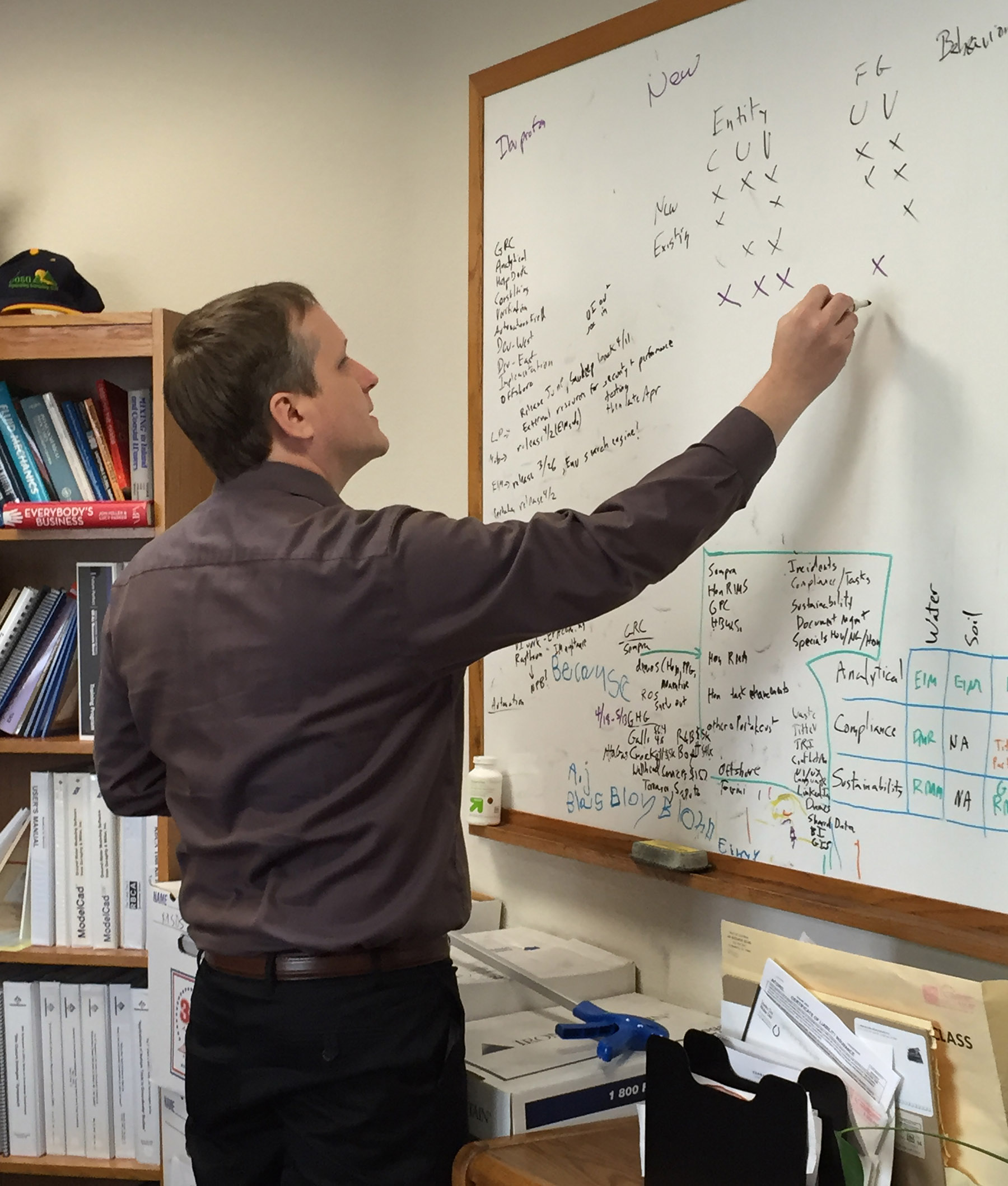 8 a.m. – Updated a compliance monitoring program for a school site that is managing arsenic issues with a surface cap. For compliance programs, you really need to look at the variety of regulations that apply to specific sites, which can be difficult and challenging.  You have to not only identify them initially, but then you have to help them manage all the associated requirements. This specific project had a lot of issues with making sure they stay on top of these requirements.
At the heart of a lot of environmental remediation sites is risk management. And school sites have a particular sensitivity regarding risk. While you're in the process of cleaning up these problem areas, there's a real risk exposure, and minimizing the potential impact to those risk receptors is extremely important. Eventually, you need to have all of the risk receptors addressed before you can close the project.
Our team helped this particular school district to consolidate their EHS compliance requirements and develop a calendar with notifications, in order to ensure all their obligations are met.
10 a.m. – Worked on a management system for handling community outreach documentation associated with large environmental projects. Occasionally, Locus gets involved in projects that go somewhat beyond the traditional scope of "environmental data".  This could be financial data associated with environmental projects, or in this case, the public outreach documentation.
Previously, this "tangential" environmental data had to be managed in separate spreadsheets, but Locus now has the tools for building applications that are tailor-made for handling this information, and allows it to be directly integrated with the tools for managing compliance tasks or analytical data.  It's a huge time-saver to be able to maintain information on all these affiliated activities in one system.
3 p.m. – Modified a corporate compliance reporting tool for health and safety incidents for a railroad operator.  A lot of times, our customers are able to teach us about how they manage and analyze their EHS data. For this project, our customer gave us some great ideas which we merged into a master template for incident reporting. Even after so many years, I'm still learning quite a bit with every new project.
5:30 p.m. – Made it through the Bay Area traffic and got my daughter to soccer practice on time. After a full and exhausting week, it was quite rewarding to relax and just watch her run around for an hour. In two more days, I'll be re-energized to start up a few new projects and finish work on a few others. Though, if the past 17 years are any indication, on Sunday evening I'll already be lining up my activities for the week and figuring out what new challenges Locus will tackle in the next five days.
---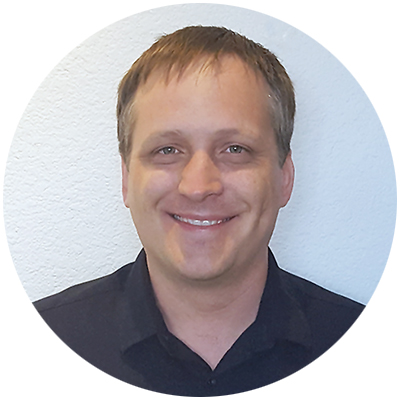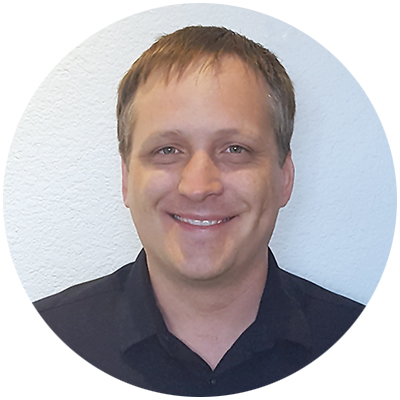 About guest blogger— Wes Hawthorne, Locus Technologies
Wes Hawthorne has been with Locus Technologies since 1999, working on development and implementation of services and solutions in the areas of environmental compliance, remediation, and sustainability. As President, he currently leads the overall product development and operations of the company.